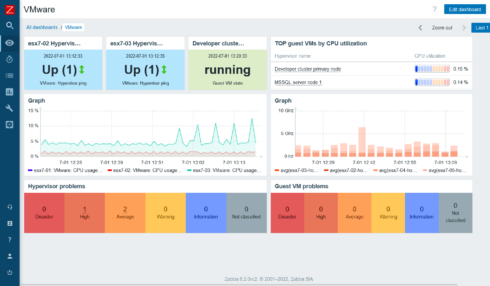 Zabbix is an enterprise-class, open-source distributed monitoring solution released under the GNU General Public License (GPL) version 2.
With it, users can get a single pane of glass view of their whole IT infrastructure stack including network, server, cloud, application, and service monitoring. 
Zabbix is scalable to any infrastructure whether on-premise or in the cloud. Users can deploy and scale a distributed Zabbix infrastructure from a central Web UI with native encryption support. 
Its 6.2.1 update was launched in late July. This latest version focuses on improving the user experience for both new and advanced users, major UI/UX improvements, new items and configuration options, and performance improvements for medium and large deployments, according to Zabbix. 
Zabbix admins now have the ability to hide irrelevant problems by suppressing them and Zabbix now includes official support for secret storage in the CyberArk vault. Users can monitor their AWS EC2 instance and the attached AWS EBS volumes with the official Zabbix AWS EC2 template.