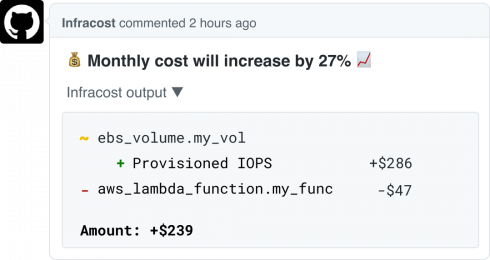 Infracost is an open-source cloud cost estimator designed to help DevOps, SREs and developers estimate the cost of Infrastructure as Code projects. 
It can be integrated into a CI/CD pipeline to see what impact a change to a business' infrastructure can do. Infracost currently supports 100 AWS and Google resources, but the team has been working on adding support for cloud vendors and IaC tools such as Microsoft Azure, CloudFormation and Pulumi. 
"We found existing tools fit in too late in the process and are not aimed at the people in control of the infrastructure. It's difficult to get cost estimations when you are building and deploying your services, which often leads to bill shock and no easy way to track down these costs. So we wanted to build a CLI tool that can plug into your existing development and operations processes and bring cost visibility to the engineers," Alistair Scott, co-founder of the project, explained in a post.
More information about Infracost is available here.