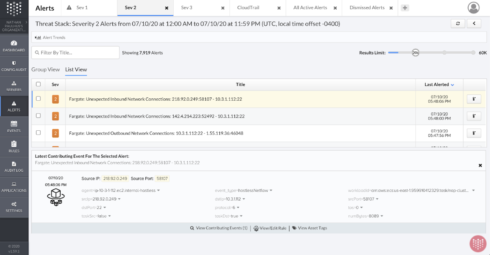 The company is extending its observability solution to the Amazon Elastic Container Service compute engine. The new capabilities will enable users to monitor AWS Fargate aspects such as processes, network activity, and running code. 
"Our 'Leveraging DevSecOps to Secure Cloud-native Applications' report shows the top container security challenge is aligning the architectural implementation of a container security control with the organization's intended container deployment model," said Doug Cahill, senior analyst and group practice director of cybersecurity at The Enterprise Strategy Group. "The ability of the Threat Stack Cloud Security Platform to secure multiple container consumption and deployment models is well suited for organizations that want flexibility for where their container-based applications are and will be deployed."
Aqua Security cloud native security platform now available through Red Hat Marketplace
The marketplace was built by Red Hat and IBM as an open cloud space for users to discover and access certified software for container-based environments. The Aqua Platform features visibility into application activity and the ability to detect and prevent suspicious activity and attacks. 
"Enterprise buying patterns are increasingly shifting toward automated, online billing mechanisms that allow companies to leverage existing cloud or services budgets, as well the flexibility to utilize OPEX budgets for software purchases when necessary," said Dror Davidoff, CEO and co-founder of Aqua. "By working more closely with our industry-leading partners like Red Hat and IBM, we are able to leverage the multitude of sales platforms they offer to help accelerate time-to-value for our joint customers while growing our business efficiently."
Aerospike Database 5.1 released
The release focuses on enhanced security and features new Identity and Access Management capabilities. The release also features HashiCorp Vault integration, which secures, stores and provides access to passwords, certificates and encryption keys. Other features include support encryption-at-rest, TLS for network links, and LDAP authentication; and the ability for selected configuration files to be migrated from local filesystems to HashiCorp Vault secrets, which reduces attack surface. 
"Prior to Aerospike 5.1, the configuration information for these features resided in files on the local filesystem. Keeping them in sync with enterprise-wide security policies is a significant, often labor-intensive support burden. Additionally, the files are potential targets for exploits, either to alter and gain unauthorized access, or to extract sensitive data such as passwords and private keys," Paul Jensen, vice president of engineering operations, wrote in a post.