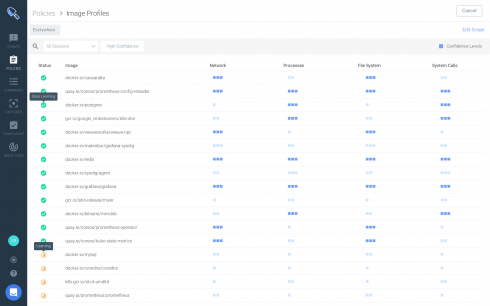 Sysdig Secure 2.4 is now available. This new update adds runtime profiling and new interfaces. According to the company, these new features are designed to improve the experience of creating security policies.
"Sysdig Secure 2.4 expands on its previous runtime security and vulnerability management capabilities with the addition of runtime profiling and the new policy editor. Now it is easier than ever for security teams to ease the burden of creating their container security policy and they now have the ability to better understand at any point in time if a vulnerability exists within their containers," the company wrote in a post.
Red Hat Enterprise Linux 7.7 now available
Red Hat Enterprise Linux 7.7 is now available. This is the final release in the Full Support Phase of Red Hat Enterprise Linux 7.
As of this release, Red Hat Enterprise Linux 7 will begin its transition to Maintenance Phase I within the 10-year life cycle. Maintenance Phase I focuses on "maintaining infrastructure stability for production environments and enhancing the reliability of the operating system."
New features include full support for image builder, Red Hat Insights, live patching, and full support for Red Hat's distributed container toolkit.
Tenable introduces new asset discovery capabilities 
Tenable has announced new capabilities to improve asset discovery. According to Tenable, the three key reasons that it's so hard to do asset discovery are that assets are dynamic, new device types are accelerating, and the number of unknown assets is increasing.
New capabilities include Nessus Network Monitor Discovery Mode, Tenable Cloud Connector Auto Discovery, and Rogue Asset Automatic Assessment.
These new capabilities will be provided natively in Tenable's platforms at no additional cost.
BlockApps announces partnership with Tech Mahindra
BlockApps has announced a partnership with Tech Mahindra to advance adoption of blockchain networks. BlockApps is a provider of blockchain platforms and Tech Mahindra providers digital transformation, consulting, and business reengineering services.
"Enterprises across the world are proactively seeking new ways of incorporating blockchain technology in their legacy systems," said Rajesh Dhuddu, global practice leader of blockchain at Tech Mahindra. "Through Tech Mahindra's partnership with BlockApps, we have simplified this process, enabling companies to transform their legacy systems into a blockchain-based business network without disruption."