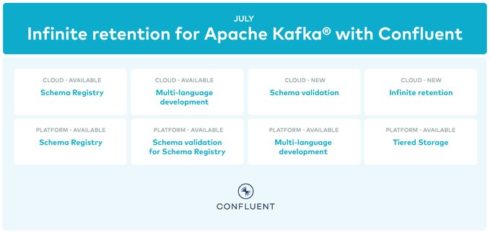 Confluent has announced the next stage of its Project Metamorphosis initiative. The goal of Project Metamorphosis is to build a next-generation event streaming platform. This new release, the Infinite release, adds infinite retention, providing a platform for current and historic event streams that can be retained as long as wanted. 
According to Confluent, companies can leverage this new capability to build better user experiences and make data-driven decisions. 
The Linux Foundation launches new training course for EdgeX Foundry
"LFD213 – Getting Started with EdgeX Foundry" was developed with LF Edge, which is part of the Linux Foundation. LFD213 is designed for IoT and edge software engineers, system admins, and operation technology technicians.
The course will cover how EdgeX Foundry is architected, how to download and run it, and how to configure and extend the EdgeX framework.
LXD 4.3 now available
LXD is a Linux container manager. The latest release introduces improvements for users using virtual machines, such as work on a new graphical console, a rework of PCIe layout, and GPU passthrough. 
Other new features include block custom storage volumes, direct console attach on lxc start and lxc restart, and isolated CPUs reporting in resources API.
More information is available here.