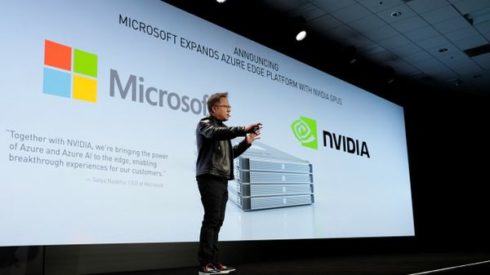 NVIDIA and Microsoft have announced a new technology collaboration that is focused on intelligent edge computing. Together the companies will work to help industries better manage and derive insights from data created by retail stores, warehouses, manufacturing facilities, connected buildings, urban infrastructure, and other environments, the companies explained.
As part of the partnership, NVIDIA has optimized its Metropolis video analytics application framework to with with Microsoft's Azure IoT Edge, Azure Machine Learning, and a new form factor of the Azure Data Box Edge that is powered by NVIDIA T4 GPUS. 
"The age of intelligent edge computing has arrived. The world's largest industries want to have AI computing at the edge, to extract insight from continuous streams of data, and to sense, reason and act at the point of action," said Jensen Huang, founder and CEO of NVIDIA. "In time, this will be the largest-scale computing ever created, connecting trillions of smart sensors. NVIDIA's and Microsoft's platforms dovetail to offer customers an end-to-end solution from edge to cloud."
FogHorn introduces low-code solution to empower OT teams
FogHorn has announced the release of its Lightning Edge AI platform, which offers tools and enhancements to empowered operations technology (OT) professionals. It includes drag-and-drop programming capabilities and rich visualization dashboards that will allow OT staff to gather insights more quickly without the help of data science teams. 
Additional features include closed-loop machine learning, an exploratory data analysis tool, and new out-of-the-box ingestion agents.
"Lightning Edge AI was designed with OT professionals in mind as a bridge between subject matter experts and deriving actionable insights from real-time data," said Sastry Malladi, CTO at FogHorn. "The simplicity of the new VEL Studio and code blocks empower OT teams to gain meaningful business insights with easy-to-use data science capabilities without the need to code or be an analytics expert."
HPE joins the IoT Community
HPE is the latest member to join the IoT Community. The IoT Community is a group of IoT professionals and practitioners. HPE has stated that it will work with the group to address barriers, inhibitors, and technical and operational issues prevalent across the IoT, IIoT, and Intelligent Edge ecosystems. 
In addition, the global head of IoT and edge at HPE, Dr. Tom Bradicich, will join the IoT Community board as well as becoming the chairman of the community's new Converged Edge Center of Excellence. 
"Intelligent Edge and IoT solutions play key roles in advancing the way people live and work. Our new Converged Edge CoE affords the IoT Community a focus on the convergence and interaction between IT compute and storage systems, and Operational Technologies (OT) such as control systems, data acquisition, and industrial protocols, said Bradicich. "I'm enthused to join the prestigious colleagues on the Advisory Board, who've demonstrated great purpose and a history of achievements in driving an IoT industry community. HPE will bring to bear our first-mover experiences with IoT and edge technology, customer deployments, and partner engagements, all for the benefit of the IoT Community."
Pliant and GCDO announce new partnership
RPA provider Pliant has announced a new reseller and system integration partnership with Gulf Coast DevOps (GCDO). According to Pliant, GCDO's Service Creation Methodology enhances Pliant by adding a layer of orchestration, service delivery, and service assurance capabilities. 
The goal of this partnership is to allow IT organizations to leverage large-scale automation and service delivery tools, Pliant explained. 
"Digital transformation is driving a profound change in business and technology that has led to a persistent gap in the skills required to deploy the technologies," said Vess Bakalov, Founder & CEO at Pliant. "DevOps and ITOps teams are not able to locate and retain senior-level IT professionals who possess the skills needed to manage disparate tools across hybrid infrastructures and applications. Our partnership with GCDO and its world-class professional services organization will help close this gap."