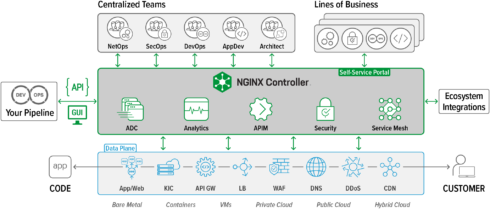 F5 Networks has announced the release of NGINX Controller 3.0. NGINX Controller is a tool used for load balancing, API management, analytics, and service mesh. 
Version 3.0 is the first major release of the tool since F5 acquired NGINX. "This is our first major product introduction since we joined forces with F5 in May, and it highlights the unique value proposition of NGINX and F5 together," said Gus Robertson, SVP and GM of NGINX at F5. "Controller 3.0 provides the foundation for developer and DevOps self-service, at scale. We've designed the user experience to be centered on the asset that businesses care about most: their apps. This is a big departure from previous infrastructure-centric solutions. Plus, customers' apps can now be configured by a new API. We're excited to hit this major milestone. Stay tuned as we continue adding value in each monthly release."
ServiceNow to acquire Passage AI
ServiceNow has entered into an agreement to acquire Passage AI. Passage AI provides a conversational AI platform that is built on deep learning models. This acquisition will enable ServiceNow to accelerate its vision of supporting all major languages across its products, the company explained.
"Work flows more smoothly when people can get things done in their native language," said Debu Chatterjee, senior director of AI engineering at ServiceNow. "Building deep learning, conversational AI capabilities into the Now Platform will enable a work request initiated in German or a customer inquiry initiated in Japanese to be solved by Virtual Agent. Passage AI's technology will enable us to accelerate our vision of empowering great employee and customer experiences by delivering great workflow experiences. ServiceNow believes in making work flow more smoothly across the enterprise, in all major languages."
Nuweba raises $10.2 million in funding for serverless platform
Nuweba has announced that it has raised $10.2 million in funding. It plans to use this money to further expand its platform and build solutions on it. 
Nuweba's platform helps make serverless technology faster and safer, the company explained. It first emerged from stealth in February 2019 as the first serverless platform to support GPUs. 
The funding round was led by Blumberg Capital, and Magma Partners and Target Global also participated.