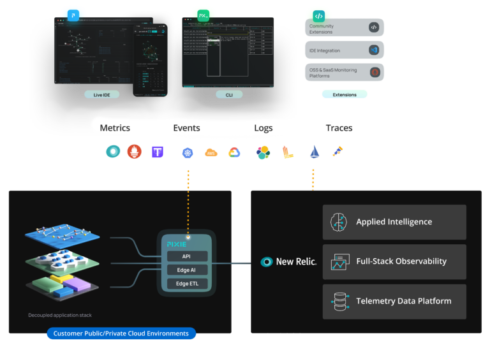 Application monitoring company New Relic has announced that it signed an agreement to acquire Pixie Labs. Pixie Labs is a provider of a Kubernetes observability platform that lets users set all of their applications' metrics, events, logs, and traces from a single CLI command. 
New Relic also announced it will be offering a self-managed version of Pixie as an open-source project, called Pixie Core, to continue Pixie Labs' commitment to open source. It will also launch Pixie by New Relic, which is a fully managed Pixie solution, and Pixie by New Relic, Enterprise Edition, which offers industry-specific solutions. 
"As we move forward together, I'm excited by the opportunity to accelerate Pixie's roadmap to empower developers with instant Kubernetes-native application observability. Pixie's technology will complement New Relic's powerful Kubernetes observability features in New Relic One, including the Kubernetes Cluster Explorer," said Lew Cirne, founder and CEO of New Relic. 
Infosys Modernization Suite announced
The new suite will help companies modernize their legacy systems and deliver better customer experiences, faster time to market, elasticity, and cost reduction.  
The suite features a wide range of modernization patterns and technologies, the ability to bootstrap projects with integrated and automated workflows, and boosted productivity. 
"The Infosys Modernization Suite, with over 40 modernization services, offers the perfect solution to organizations which need to modernize their legacy systems. Backed by experienced consultants, a rich talent pool, an extensive ecosystem of over 50 partners, and global modernization implementations for over 600 customers, Infosys is able to successfully catalyse the modernization journey for its clients," said Shaji Mathew, executive vice president of Infosys. 
Element Unify launched to align IT and OT
The solution aligns the two groups around contextualized IoT data. According to Element, this will provide companies with rich insights, leading to smarter and more efficient operations. 
The company explained that traditionally, IT and OT teams have been disconnected from each other, leading to data silos, inconsistent data quality, and poor data governance. 
Element Unify contains four core components: the ability to ingest data from IT and OT systems, the ability to combine data, management of enterprise data semantics, and a visual graphical map of an Industrial IoT deployment that shows context and interdependencies of systems.