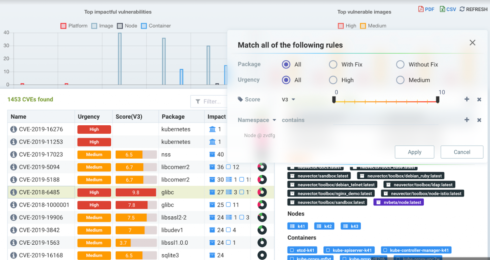 NeuVector has announced updates to its container security platform. New features include end-to-end vulnerability management, expanded registry scanning, and host protection in production environments. 
This update adds the Vulnerability and Compliance Explorer, which allows users to quickly investigate, prioritize, report, and mitigate vulnerability and compliance issues. 
"Today's additions to the NeuVector platform make it even easier for DevOps and security teams to achieve end-to-end vulnerability insight and protection – helping them get in front of any issues and ensure their security compliance," said Gary Duan, chief technology officer at NeuVector. "Alongside our new high-performance parallel scanning and reinforced host process protections, we're proud to make these key platform additions available to our customers. There's no easier or more thorough way to automate container security across the entire lifecycle."
Cisco launches Business Resiliency Program 
The program is designed to help customers mitigate the financial challenges caused by the current pandemic. The program includes $2.5 billion in funding for organizations to keep their business running. 
"Cisco's customers and partners are under enormous pressure to keep their businesses connected while remaining productive and secure," said Chuck Robbins, chairman and CEO of Cisco. "Whether it's technology, financing or helping those most in need, Cisco is committed to working together to fight this pandemic on every front."
SentinelOne announces new customizable dashboards and reporting capabilities
Customers will now be able to set up over 50 different widgets in dashboards, define report intervals, and fully customize dashboards and reports.
The company also released new data visualization integrations with Tableau and Power BI to enable more customized reporting. According to SentinelOne, these new capabilities allow companies to extract the maximum value from security data.