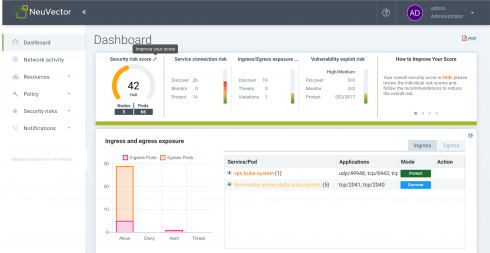 Container security company NeuVector has extended its security offerings with AWS Cloud. New AWS Cloud integrations include AWS Elastic Container Service for Kubernetes (AWS EKS), AWS ECS, and AWS App Mesh.
NeuVector also announced a number of new features, such as Kubernetes ConfigMaps, process and file system blocking, process history recording, multi-layer image scanning, and a new dashboard wizard.
Google Cloud announces Workload Identity for secrets
Google Cloud has announced a new method for authentication in Google Kubernetes Engine (GKE).
Workload Identity creates relationships between Kubernetes services and Cloud IAM service accounts, enabling organizations to use Kubernetes concepts to set which workloads run as which identities. The solution also allows workloads to automatically access other Google Cloud services without an operator needing to manage Kubernetes secrets or IAM keys.
Logic Monitor introduces anomaly detection
Logic Monitor has announced that it is adding anomaly detection to its platform to improve its AIOps capabilities. Anomaly detection will enable users to see when deviations occur in monitored resources. They will then be able to compare those deviations with historical data.
"Anomaly detection is a game-changer for our customers when it comes to their monitoring experience, and we're excited to be sharing this advancement with so many of them in person at Level Up," said Tej Redkar, chief product officer at LogicMonitor. "With anomaly detection, our customers not only get a holistic view into the health of their monitored resources, but also the insight to dig deeper to mitigate potentially critical events."
Portworx Accelerate is now available
Portworx has announced the release of Portworx Accelerate, a new set of services within Portworx Enterprise that aims to reduce the time it takes to bring containerized applications into production.
Portworx Accelerate includes services such as a success starter pack, two day training workshop, Portworx Certification, daily professional services, and more.
"Enterprises are adopting containers and Kubernetes to accelerate their hybrid cloud and digital transformation goals. However, for mission critical applications that include data, enterprises are still struggling to get out of the experimentation phase and into full-scale production," said Murli Thirumale, co-founder and CEO of Portworx. "Since Portworx's inception, our vision has been to accelerate the enterprise transition to modern cloud-native application platforms."