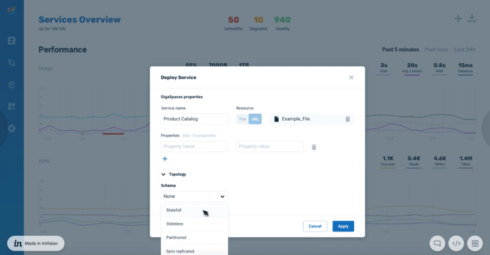 GigaSpaces has announced the release of GigaSpaces v15.5. This version has three main focus areas: realizing the value of hybrid and multi-cloud deployments, perfecting microservices, and simplifying management and operations.
New features include self-balancing capabilities, one-click microservices deployment, schema evolution, object analysis, Index Usage, and one-click connectors to Oracle and Postgres on premise and to cloud RDBMS Amazon RDS and Azure SQL. 
More information on this release is available here. 
SentryOne releases premium version of SQL Sentry monitoring solution
With this release, the company has consolidated the functionality of many of its other database monitoring tools, such as BI Sentry, DB Sentry, Win Sentry, and V Sentry. This consolidation will make it easier for customers to gain visibility into their entire data stack.
"Although we will retain the perpetual license option of our existing SentryOne monitoring products for longtime customers who need that, we're hearing from more customers and prospects that they prefer subscription licensing for technology purchases," said Douglas McDowell, chief strategy officer at SentryOne. "By introducing SQL Sentry Premium, we're providing technology that we can extend with SaaS capabilities and update on a continuous basis, informed by feedback from our customers. And for some companies, subscription licensing is a better fit for the budget process, as opposed to multi-year contracts."
ServiceNow and Cisco partner on contact tracing for the workforce
The integration is with Cisco DNA Spaces and will help businesses more safely bring employees back into their workspaces. 
The joint solution will allow customers to import location-based data into the ServiceNow Contact Tracing app. Proximity Reporting from Cisco DNA Spaces provides employees with more context into the extent of their interactions and their potential exposure from floors and buildings in the workplace.
"We are committed to innovating and expanding the ServiceNow Safe Workplace suite to help businesses manage the new and complex workflows required to help keep employees healthy and workplaces safe," said Blake McConnell, senior vice president of Employee Workflow Products at ServiceNow. "Through the power of the Now Platform, we are helping our customers navigate this uncharted territory and solve the unique challenges that arise as a result of the pandemic, so that companies and employees can feel confident and safe about returning to the workplace."