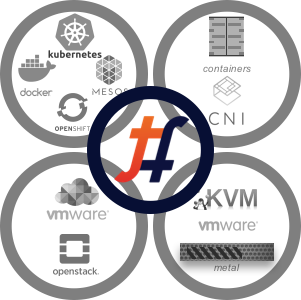 This week's open-source project of the week is a network virtualization platform for the cloud. Tungsten Fabric is an open-source scalable and multi cloud networking platform designed to provide a single point of control for networking and security observability and analytics.
The project was originally hosted by Juniper Networks and known as OpenContrail. Juniper open sourced the project in 2013. The name was changed when the project completed its move to the Linux Foundation in March of last year.  "Tungsten Fabric's versatility and at-scale operation, on any IP network infrastructure and any cloud IaaS, has made it very popular in many use cases. As a new Linux Foundation project, we're one step closer to making it the gold standard of SDN for cloud builders and cloud-native platform engineers. Juniper Networks has a long-standing commitment to the open-source ecosystem, and we look forward to the wider scope of innovation and collaboration under the Linux Foundation," said Randy Bias, VP of technology and strategy at Juniper Networks.
According to the team, features include the ability to connect to multiple orchestration stacks like Kubernetes, OpenShift and VMware; an SDN plug-in for CNI, Neutron or vSphere; networking and security for legacy, virtualized and containerized apps; and multi stack and across-stack policy control, visibility and analytics.
Tungsten Fabric 5.1 was released in June with bug fixes, new features for containers and hybrid cloud, and performance and scalability enhancements. More information about what is on the horizon for the open-source project is available here.