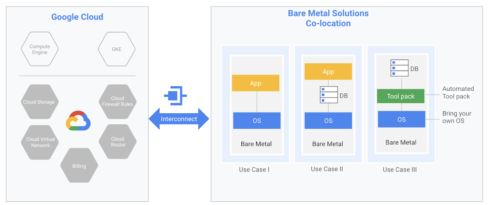 Google has announced a new solution to help with the migration of applications, helping facilitate cloud adoption. The company explained the new Bare Metal Solution contains all of the infrastructure that is needed to run specialized workloads.
It also features a low-latency and highly resilient interconnect and connects with all Google Cloud services. It uses certified OEM hardware, and applications running on it can be migrated with little or no change. This minimizes the risks of migration, while also increasing velocity, Google explained.
Bare Metal Solution also includes automation tools that can be used to onboard environments quickly. These can help with provisioning applications, relational databases, configuring popular operating systems and setting up backups and monitoring. It offers a management interface that is similar to what the IT team is already familiar with, allowing them to leverage their investments in existing tools, processes, and personnel.
Other features include completely managed hardware infrastructure, Google Cloud support and billing, and enterprise-grade SLAs.
"Google Cloud is the preferred destination for organizations building cloud-native applications as well as migrating existing on-premises applications, bringing reliable infrastructure, leading data analytics capabilities, and a culture of innovation to your IT environment," Gurmeet Goindi, senior product manager for Google, wrote in a post. "Whether you're looking to build new applications in the cloud or to overhaul your infrastructure, we're here to help you reach your digital transformation goals. And now, with Bare Metal Solution, we're excited to extend the power of Google Cloud to specialized, legacy workloads."