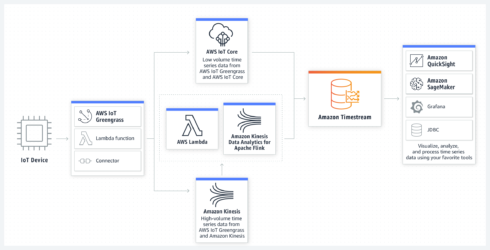 Amazon has announced the general availability of Timestream, a new solution designed to enable users to store and access time series data at scale. The solution tackles Internet of Things and operational applications, and can scale to process trillions of time series events per day. 
The company believes it is 1,000 times faster than relational databases, and a tenth of the cost. 
"Time series are a very common data format that describes how things change over time. Some of the most common sources are industrial machines and IoT devices, IT infrastructure stacks (such as hardware, software, and networking components), and applications that share their results over time. Managing time series data efficiently is not easy because the data model doesn't fit general-purpose databases," Danilo Poccia, chief evangelist at AWS, wrote in a blog post. 
According to Poccia, Timestream differs from other approaches because of the way it manages data. "Recent data is kept in memory and historical data is moved to cost-optimized storage because of a retention policy," he explained. The data is replicated across multiple availability zones in the same AWS region. 
Users only play for the data they write, store and query, and Timestream can automatically scale up or down depending on capacity. The solution integrations with data collection, visualization and machine learning tools like AWS IoT Core, Amazon Kinesis Data Analytics for Apache Flink, AWS IoT Greengrass and Amazon MSK. 
"What we hear from customers is that they have a lot of insightful data buried in their industrial equipment, website clickstream logs, data center infrastructure, and many other places, but managing time series data at scale is too complex, expensive, and slow," said Shawn Bice, VP, Databases, AWS. "Solving this problem required us to build something entirely new. Amazon Timestream provides a serverless database service that is purpose-built to manage the scale and complexity of time series data in the cloud, so customers can store more data more easily and cost effectively, giving them the ability to derive additional insights and drive better business decisions from their IoT and operational monitoring applications."
Amazon Timestream is available today in US East (N. Virginia), US East (Ohio), US West (Oregon), and EU (Ireland), with availability in additional regions in the coming months.