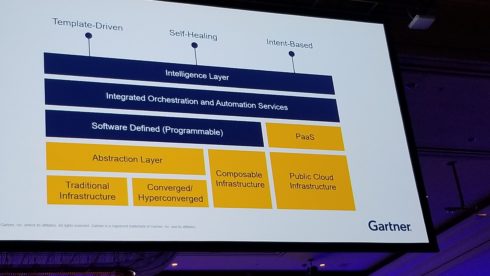 No area of IT has been impacted more than infrastructure and operations in the past 20 years. Gartner analysts made that statement, and spoke about how I&O can change in the next five years to go from a "serve and protect" defensive posture to one that drives business innovation and value, at the analysis firm's Infrastructure, Operations and Cloud Strategies conference today in Las Vegas.
To effect that change, Gartner VP analyst Dave Cappuccio said in the opening keynote, organizations have to do three things: Reimagine the future of I&O, revitalize infrastructure and re-energize people. "We firmly believe there's a huge opportunity to not only survive the future, but to disrupt it," he said. "And when we say disrupt, we mean I&O bringing its technology to drive positive outcomes."
Among the technologies organizations should be looking to leverage, according to Gartner, are quantum computing, drones, serverless, x-as-a-service, augmented reality, robotics, IoT and more. Also important will be intent-based automation, a large and fluid vendor environment as opposed to locking into one big player, virtual organizations packed with versatilists rather than specialists — all with an eye to business outcomes. Underlying that will be interconnected services and hybrid digital infrastructure management, spanning on-premises, public cloud and edge.
Cappuccio emphasized the vision for I&O should move from serving business to changing business' the culture for I&O should move from "serve and protect" to innovate and change; and the focus should shift from infrastructure components to applications and workloads. Staffing should not only be traditional, but also non-traditional, such as retirees with much institutional knowledge looking to augment their incomes by working just a few days or hours per week. And metrics should not only be used to measure what's going on in the IT environment, but should be defined by customers.
Automation, he said, is key to the future. "Automation is to the modern infrastructure as blood is to the body," he said. "To be competitive in the future, I&O must evolve from IT task and service automation to business service automation… tethering IT automation with efficient business processes."
Revitalize infrastructure
Change is the new normal. Julia Palmer, another VP analyst at Gartner, explained that "to be agile, you're already looking to employ new technologies and operational methods. Infrastructure must address the needs of today and tomorrow."
Operational consistency will be critical going into 2025, as infrastructure must be programmable, using software-driven technologies rather than rigid, proprietary appliances. "You need to stop building infrastructure to last, and build it with an eye to disruption," Palmer said.
Infrastructure, she continued, must be modular, in that organizations should place smaller bets on technologies and vendors rather than one big, single bet. "No single vendor has a monopoly on innovation," she said. And, organizations must invest in infrastructure automation and orchestration tools to enable a path to AI-driven operations.
Re-energize people
None of the changes I&O teams will need to make to keep pace with industry changes by 2025 are more important than getting the individuals themselves recharged by the prospect of doing new things and leading the drive to create value for the business.
Roger Williams, senior director analyst at Gartner, said a third of CIOs are filling I&O leadership positions with people from outside I&O, and with no experience in I&O. "They're bringing in people to shake things up," he said. "Why are they doing this? It's because they are eager for I&O leaders who are willing to reinvent their teams and take on a leadership role." CIOs, he added, would prefer to hire I&O leaders with experience, but also those who will take a fresh look at the mission and be willing to lead the adaption of these new technologies and priorities.
Three ways to accomplish that, he said, is to embrace digital business leadership as a personal mandate; to transform the mindset of I&O teams from 'or' to 'and'; and equip the I&O staff for an uncharted future. I&O teams should not be telling C-level executives that they can have security OR rapid change; they need to figure out how to deliver security AND rapid change. There should not be a choice between eliminating technical debt OR moving quickly. Organizations have to do both, he stressed.
As Cappuccio noted, "You can't reimagine the future without dealing with the past."