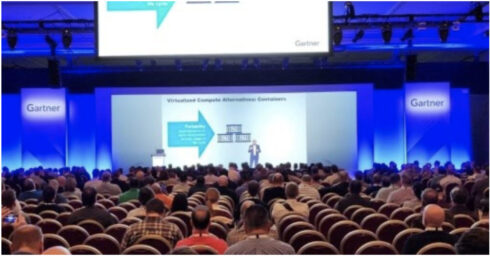 IT leaders need to keep moving forward by adopting new technologies and practices to keep pace with what the business needs to execute.
That was the overarching theme of the keynote at the Gartner Infrastructure, Operations and Cloud Strategies Conference, held this week in Las Vegas, Nevada.
During the talk, Gartner analysts Roger Williams, Dennis Smith and Thomas Bittmann outlined the areas in which organizations need to move. These include retooling the infrastructure and operations workforce, creating an innovation lab, accelerate adoption of automation and platform engineering, and creating teams that bring people outside IT into the mix to realize an increase in value delivery.
Gartner predicts that by 2025, 70% of new applications will be developed with low-code/no-code tools, as well its use in platform engineering. "Adopting a platform engineering approach is vital," Williams noted. "I&O leaders use platform engineering to deliver shared infrastructure platforms."
Another area in which operations teams must build a strategy for the future is around edge computing. "The edge is the physical location where things and people connect with the networked digital world," Bittman said. "Edge computing is part of a distributed computing topology where information processing is located close to the edge."
Gartner predicts that through 2025, 50% of edge computing solutions that are deployed with an enterprise-wide strategy behind them will fail to meet goals of deployment time, functionality and cost. 
Bittman outlined five elements to an effective strategy for the edge:
Establish a vision
Determine use cases
Identify and manage risk
Build and maintain standards
Manage execution
He went on to cite four imperatives driving edge computing: latency, data gravity, semi-autonomy and privacy and security. 
"For the foundation of an edge computing strategy, understand the enterprise strategies that will require edge computing to be successful, and ensure the strategies are linked," Bittman said.
As for cloud strategies, analyst Tony Iams outlined the things organizations  should look for when deciding on the right virtualization solution for a given application.
Iams noted the choices are virtual machines, containers and serverless. Virtualization, he pointed out, can virtualize an entire computer and manage capacity by moving VMs around. Containers virtualize the operating system user space, allowing multiple instances to share one kernel, while serverless, he said, offers virtualization of the application and ensure functions are bound to resources as they need them.
Iams gave three steps for selecting the right method:
1 – Start with a broad classification of the application to be deployed;
2 – Identify strategic considerations for hosting the application; and 
3 – Refine the choices based on tactical considerations