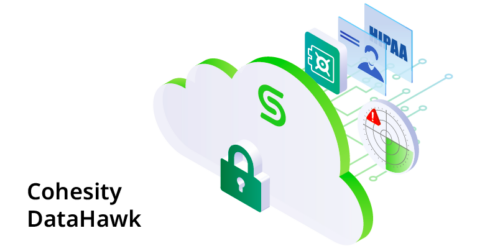 Cohesity announced DataHawk, a data security SaaS solution focused on helping companies recover from and prevent cyberattacks as well as a new Data Security Alliance. 
The alliance will combine solutions from cybersecurity and services companies such as BigID, Cisco, CrowdStrike, CyberArk, Okta, and more with Cohesity's data security and management expertise. Partners will be able to use the Cohesity Data Cloud to help joint customers advance their security posture. 
"The Data Security Alliance is an important step towards ensuring customers are better equipped to defend and recover from cyberattacks. Cohesity's approach to integrate the Cohesity platform with key security providers with an API-first strategy is absolutely the best method to increase protection for customers," said Randy Kerns, the senior strategist and analyst at Evaluator Group, an IT analyst firm dedicated to providing independent expertise on data and information management.
Cohesity's new solution, DataHawk, includes a deep-learning ransomware engine that provides rapid scanning for anomalies, potential threats, and other indicators of ransomware attacks. The solution also leverages exceptional classification technology from BigID to discover and classify large sets of data at scale. 
Cohesity FortKnox is included within DataHawk to secure offsite copies of data in a modern cloud-based cyber vaulting service. 
DataHawk is designed to integrate with select vendors that are joining Cohesity in the Data Security Alliance. 
"Over-stretched IT and security teams are constantly trying to manage a sea of infrastructure while working night and day to stay ahead of bad actors," said Mohit Aron, the founder and chief technology and product officer at Cohesity. "The key to keeping businesses running is minimizing the impact of a potential breach, bringing data security directly into the operational workflow, securing data at the source, and restoring critical workloads rapidly — while enabling IT and security teams to spend time on other business-critical tasks. This is what DataHawk is all about."