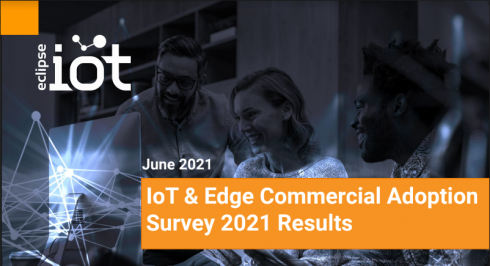 Open source is increasingly becoming a crucial foundation of IoT and edge deployments. This is according to the Eclipse Foundation's 2021 IoT and Edge Commercial Adoption Survey, which found that 74% of organizations use open source in their edge deployments, which is a 14% increase since the foundation's same survey from 2019. 
"We recommend people to have a look at [open source hardware], especially since when you do an investment in IoT, you're investing, not just for a few years, but often in terms of decades because it's not very often that you completely refresh the factory floor. Putting an emphasis on open source based solutions means that you gain more long term viability for sure," said Frédéric Desbiens, program manager of IoT and edge computing at the Eclipse Foundation. 
RELATED CONTENT: Why enterprises are running to the edge
The survey found that in general edge and IoT adoption are both increasing at an accelerated pace. Forty-seven percent of survey respondents currently deploy IoT and 39% plan to within the next two years, and 54% of organizations are utilizing or planning to utilize edge computing. 
In addition, another 30% of respondents are planning to evaluate edge deployments over the next two years. 
For those already investing in IoT and edge, most plan to make further investments. According to the report, 30% plan to spend between $100K and $1 million, which is a 2x increase since 2019. Another 16% plan to spend over $1 million, which is a 25% increase since 2019's report. 
"IoT and edge computing technologies go hand-in-hand and these survey results tell a clear and compelling story, " said Mike Milinkovich, executive director of the Eclipse Foundation. "Real-world adoption is accelerating in both domains and open source is firmly established in production deployments across a range of industrial use cases."
Deploying IoT and edge isn't without its challenges, and according to the report, the biggest challenges are end-to-end monitoring and management, device management, and security. 
Another major finding of the report is that a lot of companies are deploying edge technologies in hybrid networks. Forty-four percent of survey respondents deploy IoT on a hybrid cloud, an increase of 22% from the 2019 report. 
Finally, the report found that more and more companies are seeing IoT and edge as strategic decisions being driven at the executive level. Thirty-five percent of organizations said that decisions are being driven at the C-Suite level, up from 18% in 2019. IT is second on the list at 21%. 
The 2021 IoT and Edge Commercial Adoption Survey was based on responses from over 300 IoT and edge professionals from January 12 to March 15, 2021.