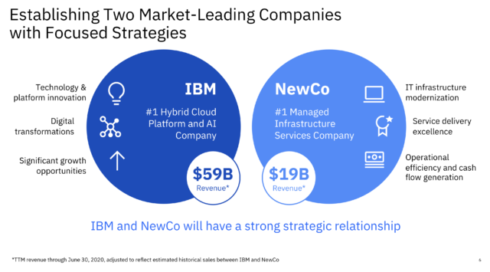 IBM's Managed Infrastructure Services unit of its Global Technology Services division is splitting into a new public company currently referred to as NewCo. 
The separation is expected to be achieved as a tax-free spin-off to IBM shareholders, and completed by the end of 2021.
While IBM will focus on its open hybrid cloud platform, AI capabilities, and clients' digital transformation journeys, NewCo will accelerate clients' infrastructure modernization efforts. 
"We have positioned IBM for the new era of hybrid cloud," said Ginni Rometty, the executive chairman of IBM. "Our multi-year transformation created the foundation for the open hybrid cloud platform, which we then accelerated with the acquisition of Red Hat. At the same time, our managed infrastructure services business has established itself as the industry leader, with unrivaled expertise in complex and mission-critical infrastructure work. This focus will result in greater value, increased innovation, and faster execution for our clients." 
IBM acquired Red Hat to unlock the full value of the cloud for its clients and with tighter integration and focus on its open hybrid cloud and AI solutions, IBM will move from a company with more than half of its revenues in services to one with a majority in high-value cloud software and solutions, according to the company. 
As part of its strategic acceleration, IBM is taking action to simplify and optimize its operating model for speed and growth by streamlining its geographic model and transforming its go-to-market structure to better engage with and support clients. 
Meanwhile, NewCo will completely focus on managing and modernizing client-owned infrastructures by leveraging expertise to offer hosting and network services, services management, infrastructure modernization, and enhanced capabilities to migrate and manage multi-cloud environments. 
"NewCo will extend its leadership through increased investment in the next generation of transformational managed infrastructure services, with more opportunity for margin expansion, profit growth and cash generation," IBM wrote in a post.
The company will also be able to partner fully across all cloud vendors, opening new avenues for growth, while maintaining a strong strategic partnership with IBM.
Following separation, the companies together are initially expected to pay a combined quarterly dividend that is no less than IBM's pre-spin dividend per share. Following the completion of the separation, each company's dividend policy will be determined by its respective Board of Directors.
"Both companies will be on an improved growth trajectory with greater ability to partner and capture new opportunities – creating value for clients and shareholders," said Arvind Krishna, the chief executive officer of IBM.