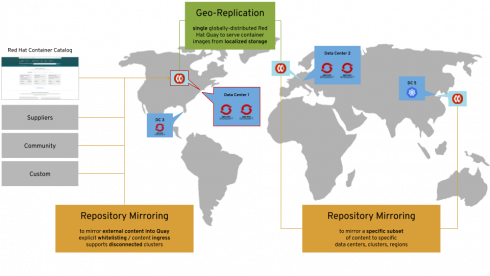 Red Hat has improved its container registry to make it better for distributed environments. The latest release, Red Hat Quay 3.1, builds on Red Hat's effort to make it easier for users to store, build, and deploy container images securely across diverse environments.
It includes a number of new features that solidifies its manageability across hybrid environments, Red Hat explained.
RELATED CONTENT:
Red Hat launches registry for Kubernetes Operators
Operators make the lifecycle management of containers simpler
Quay now includes repository mirroring, which complements its existing geo-replication feature. Repository mirroring allows content to be mirrored between different registries. "This can provide an additional level of freedom and independence for distributed registries meanwhile helping to ensure that content that is used in more than one registry is mirrored to all other clusters and registries that are supposed to use it," Red Hat wrote in a post. 
Three of the new features in Quay 3.1 are based on Operator technology. The latest version of the registry introduces a new Operator called the Quay Setup Operator. This Operator helps with the deployment and maintenance of Quay on Red Hat OpenShift. 
Utilizing the NooBaa S3 Operator, Quay 3.1 now supports NooBaa, which provides support for storage services. 
Quy 3.1 also adds support for the Crunchy Data PostgreSQL Operator. "Crunchy Data greatly values its collaboration with Red Hat, and has been a first mover in contributing to open source technologies like the PostgreSQL Operator, which uses the Operator Framework," said David Bagley, VP of worldwide sales at Crunchy Data. "Crunchy Data helps the Red Hat Quay container registry to offer a resilient high-availability architecture for the PostgreSQL storage back end. Our mutual customers can scale their Quay environments with the confidence of an infrastructure agnostic, cloud-native database-as-a-service, and the backing of support from our skilled PostgreSQL engineers."
In addition, this release introduces a read-only repository mode. These "frozen zones" will provide more control to developers over their environments at critical times, such as right before a production release. 
Red Hat has a number of other updates planned for Quay following this release. It plans on focusing on providing a deeper integration into OpenShift, adding advanced vulnerability scanning, and adding enhanced support for distributed, multi-cloud setups and air-gapped environments.