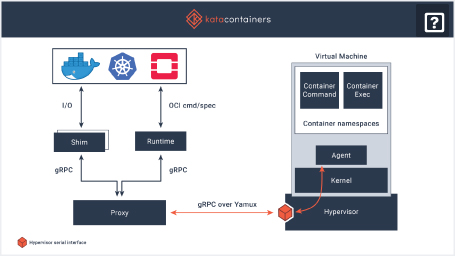 The Kata Containers Project has reached version 1.0. Kata Containers is an open-source project designed to isolate containers with security similar to virtual machines, but without the performance burden associated with virtual machines.
According to the team, the solution is a fast and secure deployment option for workloads of all types, from highly-regulated workloads to untrusted code. It can be used on public and private cloud, containers-as-a-service, and edge computing use cases.
Kata Containers integrates the code bases from Intel Clear Containers and runV technology. By combining them, Kata Containers is able to solve the challenge of providing secure and agile container management technology across platforms and stacks, the team explained.
The project was initially launched in December 2017 as a project managed by the OpenStack Foundation. It is compatible with the Open Container Initiative (OCI) specification and the container runtime interface (CRI) for Kubernetes.
The community hopes to expand the project to support device passthrough and accelerators in future releases.
The project is being financially supported by Arm, Canonical, Dell/EMC, Intel and Red Hat. It is also being supported in other ways by 99cloud, AWcloud, China Mobile, City Network, CoreOS, EasyStack, Fiberhome, Google, Huawei, JD.com, Mirantis, NetApp, SUSE, Tencent, Ucloud and UnitedStack.