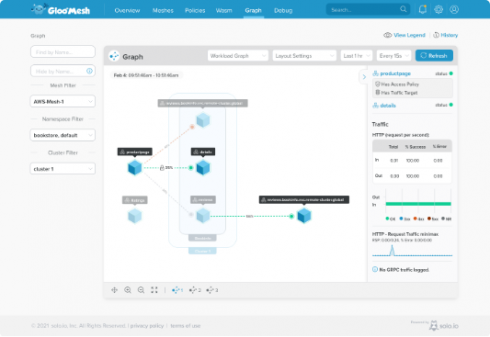 Solo.io has announced updates to Gloo Mesh Enterprise. According to Solo.io, the latest updates simplify the process of setting up multi-cluster and multi-mesh service mesh environments. 
Gloo Mesh Enterprise now includes Gloo Mesh Gateway, which is an API gateway. Other new features include observability improvements, improved security certificate management, added N-4 version support for Istio, and discovery of multiple available ingress gateways. 
"While Istio provides a basic API gateway, many organizations have told us they need a more advanced solution that includes advanced security and traffic management as well as a developer portal to improve communication between teams," said Idit Levine, founder and CEO, Solo.io. "We've addressed customer demand for more flexible and less centralized gateway features with an Istio-based platform for both service mesh and API gateway. Solo.io is delivering a more comprehensive option that allows companies to more efficiently drive the right outcomes with reduced overhead, fewer resources to manage, and less complexity."
NS1 announces NetBox Cloud 
NetBox Cloud is a managed version of the popular NetBox open source project. It is intended for companies that need a simpler deployment path for NetBox or added governance and support. 
"Our investment in NetBox continues NS1's full support of open-source innovation and communities as well as our mission to deliver a portfolio of solutions that connect the world's applications and audiences by unlocking powerful automation for dynamic and distributed infrastructure," said Kris Beevers, CEO of NS1. "As we've scaled up our investment in NetBox, we've heard from many organizations that are seeking a more packaged, simplified, and supported way to adopt NetBox as a single source of truth for network automation. NetBox Cloud by NS1 provides that simplified adoption route, while continuing to speed and expand NetBox innovation to the open-source project."
Arista extends its cloud-grade routing solution 
Updates to Arista's Extensible Operating System (EOS) enable three new use cases: multi-cloud edge, metro edge, and 5G RAN edge. 
According to Arista, EOS allows companies to migrate from legacy routers to "software-driven, highly available and scale-out architectures."