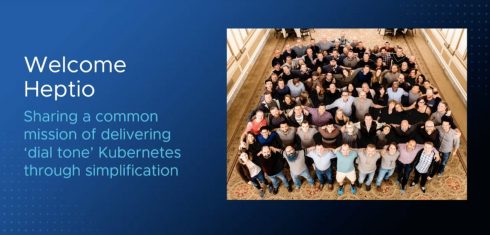 VMware is joining forces with Heptio on a shared vision to simplify Kubernetes and accelerate IT in a multi-cloud world. The company announced it signed a definitive agreement to acquire the Kubernetes solution provider.
"Kubernetes is emerging as an open framework for multi-cloud infrastructure that enables enterprise organizations to run modern applications," said Paul Fazzone, senior vice president and general manager of cloud native apps business unit at VMware. "Heptio products and services will reinforce and extend VMware's efforts with PKS to establish Kubernetes as the de facto standard for infrastructure across clouds upon closing. We are thrilled that the Heptio team led by Craig and Joe will be joining VMware to help us guide customers as they move to a multi-cloud world."
According to Heptio's founder and CEO Craig McLuckie, the industry is amidst a transformation to de-couple apps from their environments. To successfully achieve this, McLuckie feels organizations need to embrace a true cloud-native architecture, and VMware is at the center of it all having led the parallel transformation of the software-defined data center.
"When we first started conversations with VMware, the alignment of our respective visions was uncanny. With virtualization, VMware helped enterprises change the way their infrastructure operates. VMware values our products and services—together we can apply these technologies to change the way business operates, and where they run their applications," he explained in a blog post.
Heptio is known so its open-source projects and contributions to upstream Kubernetes. VMware hopes this acquisition will help open new channels for the company amongst the open source community as well as provide Kubernetes and cloud-native support for large enterprises.
"It is not surprising that VMware, a vendor that is going all in on Kubernetes, wants to make sure their customer deployments are as rock-solid and standardized as possible. This buys them (and their customers) immense peace of mind, as well as great Kubernetes credibility," Sacha Labourey, CEO of CloudBees, wrote in a post. "VMware has owned the world's last-gen data centers for more than a decade now, and this acquisition fits into VMware's desire to remain the king of on-premise data centers for another decade. This is a good move."