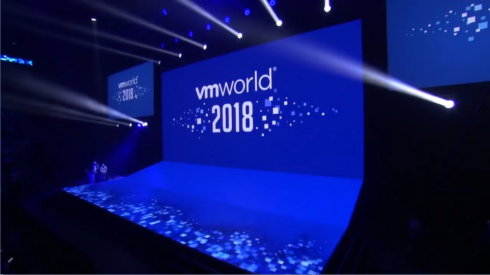 VMware is partnering with Amazon Web Services on the Amazon Relational Database Service on VMware. The companies made the announcement this week at the VMworld 2018 conference taking place in Las Vegas. The database is a new solution VMware says will bring easier management and migration of VMware, AWS or hybrid database running on VMware to its cloud computing and platform virtualization offerings.
"Amazon RDS on VMware automates database management regardless of where the database is deployed, freeing up customers to focus on developing and tuning their applications," the company wrote in the announcement. "Available in the coming months, Amazon RDS on VMware will support Microsoft SQL Server, Oracle, PostgreSQL, MySQL, and MariaDB databases."
VMware says this update will bring along features that make things like provisioning, patching, backing up, cloning, restoring, scaling, monitoring, multi-node data replication, scaling, security, compliance and auditing much easier on database administrators.
"With this offering from AWS and VMware, end users and database administrators alike now have access to a cloud-like database management experience, in whatever environment they choose to run – private or public cloud," VMware CEO Pat Gelsinger said of Amazon RDS on VMware, which he says addresses many concerns and QoL requests of VMware's customers with its launch.
In addition, the company announced a number of other announcements throughout the week.
Technology previews
During the event, VMware previewed some of its work-in-progress technology, including:
Project Dimension, a software-defined data center-as-a-service offering that combines VMware Cloud Foundation and VMware cloud.
"Project Dimension will dramatically simplify operational complexity and cost at data center and edge and offers built-in security and isolation, allowing customers to focus on innovation and differentiating their businesses," the company wrote in the announcement.
Project Magna, a machine learning-based performance optimization tool which can "model, test, and then reconfigure the network to a make it more optimal to improve performance," the company wrote. "Project Magna relies on artificial intelligence algorithms to help connect the dots across huge data sets and gain deep insights across applications and the stack from application code, to software to hardware infrastructure, to public cloud and the edge."
Virtualization on 64-bit ARM for Edge, designed for IoT application, and which was demonstrated running on a windmill farm.
And Project Concord, a "highly, energy efficient decentralized trust infrastructure for digital consensus and smart contract execution" which can be applied to power distributed trust infrastructures like blockchain, the company says. It is available now as an open-source project.
Cloud updates
The event also saw the expansion and update of security and ease-of-use features of much of VMware's cloud offerings, all with the goal in mind of streamlining the setup of multi cloud infrastructure.
VMware NSX: VMware is aiming to make hybrid cloud infrastructure easier to setup and secure with updates to its VMware NSX Virtual Cloud Network utility, part of what the company calls its "strategy of enabling consistent, pervasive connectivity and intrinsic security for applications and data across any environment."
VMWare NSX-T Data Center 2.3 brings the company's multi-cloud configuration to AWS, Microsoft Azure and on-premises environments, bare-metal Linux hosts and will allow users of VMware Cloud on AWS to employ "micro-segmentation with the distributed firewall, grouping constructs, and advanced matching criteria such as security tags across software-defined data centers" in that environment.
"A digital foundation built on VMware software and with Virtual Cloud Network architecture enables organizations to respond to new opportunities and threats, create new business models, and deliver services to all applications and data, wherever they are located," said Tom Gillis, senior vice president and general manager, networking and security business unit, VMware said in the announcement. "With VMware NSX, customers are benefitting from virtual cloud networking, taking full advantage of NSX to unlock value from current networking technologies, significantly reduce network complexity, and redefine what's possible with security."
vSphere Platinum: VMware's new release of its cloud computing virtualization platform incorporates VMware AppDefense on top of the preexisting security features of the platform, bringing application security configuration to the VMware hypervisor.
"Using machine learning and behavioral analytics, the new solution will enable vSphere administrators to deliver more secure applications and infrastructure by enabling virtual machines (VMs) to run in a "known good" state," the company wrote in the announcement. "It will offer direct visibility into VM intent and application behavior as well as fast and more accurate threat detection and response capabilities. This will enable vSphere admins and security teams to better collaborate to protect the business."
The company also announced it was acquiring CloudHealth Technologies, a multi-cloud operations platform provider. The platform is designed to analyze and manage cloud cost, usage, security and performance on native public clouds.
"Multi-cloud usage while beneficial to business creates a unique set of operational problems." said Raghu Raghuram, chief operating officer, products and cloud services, VMware. "With the addition of CloudHealth Technologies we are delivering a consistent and actionable view into cost and resource management, security and performance for applications across multiple clouds."
The edge and IoT
For the Internet of Things and the edge, VMware announced a new edge computing strategy. The company is approaching edge computing with a new framework to extend the company's hybrid and multi-cloud environments to the edge. The company ways it has three missions in its strategy: control and simplify customers' edge strategy; better secure, connect and manage customers' edge compute; and accelerate and scale customers' innovation.
Other IoT related announcements included Dell Technologies IoT solution for surveillance, and VMware Pulse IoT Center 2.0. "Our customers are ultimately working to achieve a next-generation infrastructure foundation for the digital enterprise. IoT and edge computing are critical components of digital transformation, and VMware's continued momentum in this space is the result of two decades of software innovation and a dedication to stay on the leading edge of technology," said Mimi Spier, vice president of Internet of Things at VMware. "VMware Pulse IoT Center 2.0 was designed to help customers harness their data at the edge while providing the vital infrastructure and operations needed for consistent, more secure and open digital foundation for innovation."
Workspace ONE
Finally, the company highlighted some updates to VMware Workspace ONE, its digital workspace solution which can help automate system updates and OS migrations.
"Organizations can now take advantage of solutions that accelerate the adoption of modern management as they fully transition to Windows 10 and embrace Mac, iOS, Android, and Chromebooks," the company wrote in the announcement. "Through updates to the platform, businesses will be able to provide improved employee experiences with a new Workspace ONE Intelligent Hub app and benefit from new integrations in the platform that extend the value of modern management to virtual endpoints."