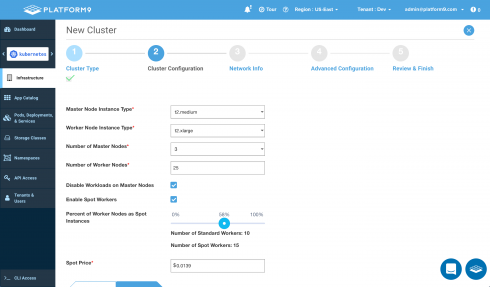 Platform9 announced an update today to its managed Kubernetes solution. With Arbitrage, users can now define the total number of nodes in a Kubernetes cluster and deploy them as Spot Instances on Amazon EC2. In addition, users can specify the level of fault tolerance and performance to maintain.
The technology will continuously evaluate cloud resources and pricing and decide when to deploy Spot Instances or standard EC2 instances, the company explained.
"With Arbitrage, organizations can significantly lower their Amazon EC2 costs without sacrificing fault tolerance for mission-critical Kubernetes-based applications," said Sirish Raghuram, co-founder and CEO of Platform9. "Arbitrage is another example of the automated management capabilities we offer our customers to enable them to take advantage of new technologies, such as Kubernetes, while reducing infrastructure costs and management overhead."
Arbitrage is a feature within Platform9 Managed Kubernetes, a SaaS-managed solution that delivers Kubernetes as a Service. The technology also works with the company's open-source Kubernetes native serverless framework Fission.
"When using Fission serverless functions along with Arbitrage, enterprises can run their Kubernetes cluster for Serverless applications using Spot resources, that are considerably cheaper than the more expensive EC2 instances, or the even more expensive dedicated Kubernetes or Serverless services that are offered by the public clouds," Andres Vega, senior product manager for Platform9 Managed Kubernetes, wrote in a post.