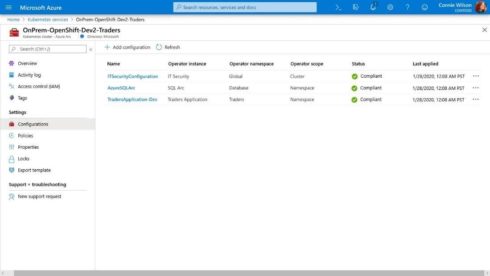 In-person events have been cancelled, but that didn't stop the annual Red Hat Summit from taking place virtually. Today, Red Hat kicked off their now virtual conference with a number of updates. They announced updates to the Ansible Automation Platform and launched a new container management solution, among others. 
A number of other companies have also announced partnerships with Red Hat at the event. Here are a few highlights:
Microsoft and Red Hat expand partnership
Their latest collaboration has resulted in expansions of Azure Arc with support on OpenShift and Red Hat Enterprise Linux (RHEL). Azure Arc is a platform that allows Azure to be deployed in edge environments. 
New support from Red Hat offers benefits like the ability to manage Red Hat ecosystems across environments, the ability to manage OpenShift clusters and applications at scale, and run Azure data services on OpenShift. 
Microsoft also announced the general availability of Azure Red Hat OpenShift on OpenShift 4. New features include private API and ingress endpoints, industry compliance certifications, multi-Availability Zones clusters, and cluster-admin support. 
Snyk and Red Hat announced new integrations
The open-source security company will help strengthen security for Red Hat customers. Snyk will provide new integrations for Red Hat CodeReady Dependency Analytics and Red Hat OpenShift. 
The CodeReady integration will show developers Snyk vulnerabilities as they code, while the OpenShift integration will offer enhanced vulnerability monitoring. 
TrilioVault for Kubernetes now in early access
The service has already earned a Red Hat OpenShift Operator Certification, which means that the two products are interoperable and customers will receive collaborative support from Trilio and Red Hat. 
TrilioVault for Kubernetes provides backup and recovery for every aspect of an application, including data, metadata, and Kubernetes objects. 
The solution currently supports Kubernetes applications provisioned using Operators, Helm, or Labels. According to Trilio, this new service is also cloud agnostic, which will provide customers flexibility in moving applications across public and private cloud infrastructures. 
Cloudera select Red Hat OpenShift as its preferred container solution
The company cited Red Hat OpenShift's position and its open source nature as reasons for this decision. By using OpenShift for Cloudera Data Platform (CDP) Private cloud, the company hopes to offer customers "powerful, self-service analytics and enterprise-grade performance."
"We're pleased to expand access to the open hybrid cloud by becoming the preferred container solution for the Cloudera Data Platform Private Cloud," said Ashesh Badani, senior vice president at Red Hat. "The combination of Red Hat OpenShift and CDP Private Cloud aims to deliver a next-generation data analytics platform for on-premise deployments that can help to transform complex data into clearer and more actionable enterprise insights."