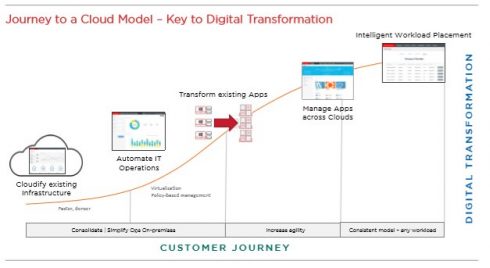 HyperGrid has announced a new software-defined cloud strategy for its HyperCloud software platform. HyperCloud is designed to help users achieve digital transformation on their journey to the cloud. It provides tools to manage and control public cloud environments and as well as to achieve simplicity, automation, and intelligence.
"Multi-cloud use cases are increasing every year, which is making the use of multiple clouds very complex to manage. There is a clear need for a platform that spans private and public clouds, to help organizations to modernize and transform to the Cloud Era,'' said Henry Baltazar, research VP infrastructure at 451 Research. "HyperGrid's cloud management platform enables organizations to intelligently manage workloads across all IT infrastructure in a single pane of glass."
According to the company, HyperCloud enables organizations to simplify their operations and automate business processes. It also can turn existing applications into cloud-friendly applications.
The latest release features multi-tier workload modeling, real-time cloud cost analysis, intelligent workload placement recommendation engine, and flexible software deployment options.
"The Software-Defined Cloud builds on the key tenets of the cloud model, namely Application Transformation, Automation, and Agility, and helps MSPs and enterprises to grow revenue sources and avoid lock-in," said Manoj Nair, chief product officer for HyperGrid. "Organizations need the automation, intelligence and flexibility to use the right cloud for the right workload, but easy ways to adopt the cloud model are missing today – point solutions exist but attempts to knit them together only result in increased complexity. Our unique approach brings all key capabilities for customers into a single technology stack to reduce risk, minimize operational overhead, and dramatically accelerate time to value for our customers."
The company also announced the availabilities of HyperCloud Analytics SaaS, which can help customers analyze how much they are spending on cloud initiatives and provide recommendations to reduce those costs.