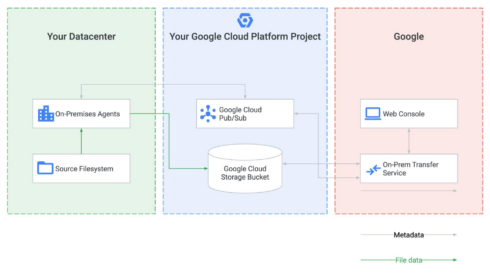 Google is launching a beta for a new solution designed to help organizations move their data to the cloud. Its new Transfer Service for on-premises data facilitates large-scale, online data transfers.
"There's an enormous amount of data in the world today, and your company likely operates its own storage infrastructure to store this data. Running your business in the cloud can generate more value from your data and facilitate collaboration across your organization, all while optimizing for infrastructure costs. Before you can take advantage of all that cloud offers, though, you have to actually get your data to the cloud," Ash Ahluwalia, product manager at Google Cloud, wrote in a post.
According to Google, Transfer Service for on-premises data can be used to transfer billions of files, multiple PB of data, and tens of Gbps.
The solution was built with reliability and security in mind, such that if an agent failure occurs, it will not impact in progress transfers.
It also includes performance optimizations that allow it to use your available bandwidth to help lower transfer times.
Another benefit the company explained is that it doesn't require code or maintenance, which will allow companies to focus on innovation instead of operations.