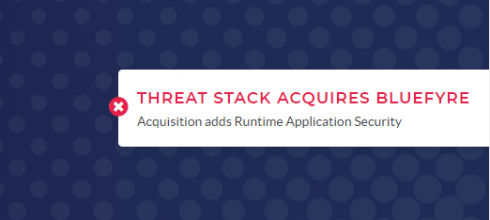 Cloud security and compliance company Threat Stack wants to bolster its cloud capabilities with the acquisition of Bluefyre. According to the company, Bluefyre will help deliver greater visibility into security as well as help developers build secure, cloud-native apps.
Bluefyre provides targeted application security for Kubernetes, Mesosphere and OpenShift applications, and according to Threat Stack that combination of development, security and operations capabilities will be a major boon for its customers.
"We're thrilled to welcome the Bluefyre team to Threat Stack," Threat Stack CEO Brian M. Ahern said in the announcement. "Observability of the application layer has been a key part of Threat Stack's strategic vision, and Bluefyre's capabilities provide the ideal complement to Threat Stack's industry-leading cloud-optimized intrusion detection system. They have built an extremely powerful runtime application security product that will drastically increase the ability of Threat Stack customers to reduce risk within cloud infrastructure."
According to Threat Stack, the acquisition will bring in Bluefyre co-founders Sabin Thomas and Tim Buntel as Threat Stack's vice presidents of application security engineering and application security products.
"As organizations increasingly develop applications in the cloud, runtime monitoring and detection throughout the development and operations lifecycle is critical," Buntel said in the announcement. "Bluefyre's ability to protect applications augments Threat Stack's cloud infrastructure security observability to provide DevOps and Security teams with a single tool that provides in-depth visibility and actionable intelligence."
Threat Stack plans to release integrated Bluefyre capabilities as part of its Cloud Security Platform and Cloud SecOps Program early next year.