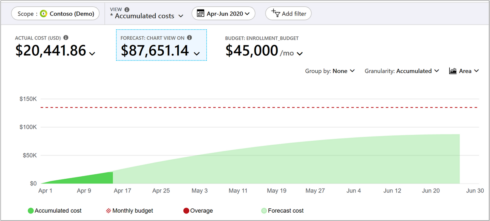 Microsoft recently announced several updates that have been made regarding cloud cost management. These updates are intended to bring users visibility into what they are spending and where they are spending it so there are no surprises when it comes to the bill.
The first of these updates is the ability to view costs in the Azure mobile app. With this, the app now allows for keeping an eye on the cost of subscriptions and resource groups as well as managing access, checking resource status, monitoring health, and more. 
A new API for configuring cost alerts, ScheduledActions API, has also been introduced. Automation has become essential for setting up for success and so, the new API brings users the ability to automate their subscriptions to views or anomaly alerts.
Next, users can now proactively prevent budget overages with action groups common alert schema. Cost Management budget alerts now support the Azure Monitor common alert schema, which simplifies the process to automate actions that keep users under budget.
These updates offer users the opportunity to amplify their learning experience in Cost Management. Customers gain access to monthly blog posts and smaller feature updates to full product documentation and MS Learn modules to YouTube videos. 
Lastly, Microsoft is continuing to explore navigation pathways for key tasks within the Azure portal and is looking for participants to share feedback in a 30-minute unmoderated walkthrough. To learn more click here to contact the research team. 
For more information on these updates, visit the website.