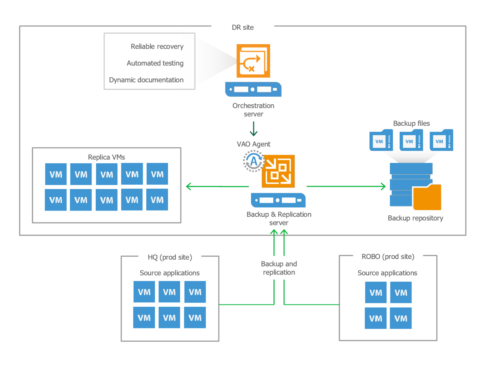 Veeam has announced the latest release of the Veeam Availability Orchestrator. Veeam Availability Orchestrator v3 adds full recovery orchestration support for NetApp ONTAP snapshots.
With this addition, organizations are able to ensure the continuity of their IT services at any scale from Veeam-powered backups and array-based replication. It also offers capabilities such as automatic testing, dynamic documenting, and disaster recovery plans from single applications to entire sites.
Customers can orchestrate failover on NetApp ONTAP storage to a secondary recovery site, whether it be a disaster recovery (DR) site or a new datacenter in the case of datacenter migration.
The company also announced its new DR Pack, which provides organizations up to 80% cost savings while immediately receiving a purpose-built disaster recovery (DR) planning and compliance solution for all workloads, according to the company. 
"A major focus of VeeamON this week has been the criticality of data to business success as our customers undergo rapid Digital Transformation," said Danny Allan, the CTO and senior vice president of product strategy at Veeam. "Automating manually intensive processes and driving greater business value by unlocking the potential of otherwise dormant data is key to a more agile business."
Also, NEW Veeam Backup makes it easier for users to quickly restore and find documents and files from within Microsoft Teams. The addition protects Teams data but also channels, settings, and tabs. eDiscovery enables granular search and find across Teams components. 
Veeam Backup for Microsoft Office 365 v5 will be generally available in Q3, 2020.
Additional details on today's new release are available here.