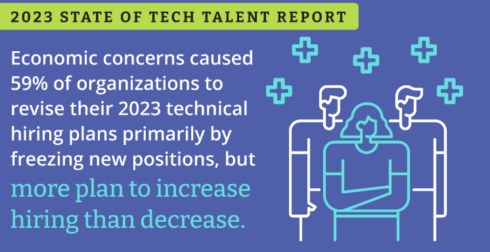 The constantly shifting economy is a reminder to technical professionals seeking new roles that change is the only constant. The Linux Foundation's 2023 State of Tech Talent Report, viewable here, highlights what some 400 IT hiring managers and staffing professionals view as must-haves for new hires. Here are three insights and the takeaways technical professionals should know, as they seek their next challenge.
Insight 1: New hiring continues to focus on developers and newer technologies, especially: cloud/containers (50%); cyber security (50%); and Artificial Intelligence (AI) and Machine Learning (ML) (46%).
As technology development continues to accelerate, hiring managers are seeking technical staff who have existing strong skill sets in high-demand areas. Not surprisingly, evolving technologies such as cloud and cyber security remain in high demand. The fact that respondents said they have cloud native professionals (59%) and cyber security (59%) already on staff, indicates that organizations need to expand teams and expertise.  
But there is more to this. Organizations report having a range of hiring priorities to grow existing teams and capabilities. These include: 
Augmented/Virtual Reality
AI/ML
Blockchain
CI/CD 
DevOps 
Kubernetes
As you consider these factors against your own professional development path, it is important to remember that while AI is dominating hiring trends today, the "hot" technologies could be very different a year or two from now. This is just another reason technical professionals excel when they continuously learn.  
Insight 2: 53% of respondents feel upskilling is extremely important to acquire the skills and knowledge their organization needs.
Whether you are looking for a new role at a new organization or trying to shore up your current employment prospects, training and certifications are key. Many organizations are currently pursuing the approach of upskilling existing team members to close skill gaps. Look for these opportunities and raise your hand. Seeking out and participating in in-house training opportunities helps set you up for success whether you're looking for your next promotion, a lateral transfer or an opportunity elsewhere.
If your current employer isn't offering a training program to close critical skill gaps, that doesn't mean you're stuck. As an insider, you are in an excellent position to identify where the gaps are for your organization and seek suitable training programs on your own. This will heighten your stature, improve job security and potentially get you promoted. Pursuing in-demand skills also gives you an opportunity to make a case for your employer to pick up the tab.
If necessary, seeking your own certification on personal time gives you more freedom to acquire new skills that interest you and best fit your intended career path.
Insight 3: The majority of respondents agree that certification (73%) and pre-employment testing (81%) are necessary to verify skills.
As candidates navigate this unusual and uncertain job market, one thing is for sure: employers want candidates who have proven and verifiable skills. 
This means seeking out certifications that aren't based on multiple choice exams, but rather ensuring participants have well-developed coding skills along with the critical thinking needed to solve real-world IT problems. When assessing potential certifications, look for those that include the use of lab environments and that test real coding capabilities from the command prompt.
Similarly look for expertise when assessing training courses, especially ones related to emerging technologies. A good check is the background of the instructors. Are they professional instructors or are they technical professionals themselves, working with new technologies? Instructors who are working with – as well as teaching about – emerging technology are much more likely to bring real life experiences that will help you learn. 
As you consider your next career move as a technical professional, be sure to ask yourself the hard questions on what you want from your next role and beyond. Careers don't just happen, you have to build your own path. Doing so sets you up to respond to the shifting job economy of today, tomorrow, and in the decades to come.
Not sure where to start your journey? More than half of the Linux Foundation Training & Certification e-Learning catalog is free. The foundation also offers many free tools help new, mid-career and senior professionals determine their next steps, including: 
Join us at KubeCon + CloudNativeCon North America this Nov. 6 – 9 in Chicago for more on Kubernetes and the cloud native ecosystem.