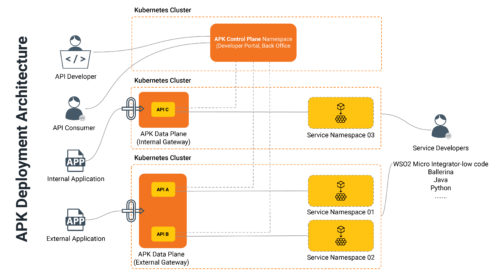 WSO2 has introduced a solution called WSO2 API Platform for Kubernetes (WSO2 APK) to address the challenges associated with manually configuring traditional API management solutions within Kubernetes.
WSO2 APK is a comprehensive API management solution purposefully designed to harness Kubernetes' inherent strengths. It adheres to the Kubernetes Gateway API specification and seamlessly integrates with Kubernetes features like container orchestration, cluster organization through namespaces, scalability, and service discovery. 
According to WSO2, this integration allows enterprises to enhance their API management practices and workflows while expediting solution delivery in Kubernetes environments.
Also, WSO2 APK employs a microservice architecture, enabling customization and scaling without impacting the entire system. As a cloud-native solution, it boasts rapid startup times and minimal resource consumption, effortlessly accommodating demanding requirements, even in scenarios involving a large number of APIs. This empowers organizations to effectively manage diverse and extensive API ecosystems, according to the company.
"For more than a decade, WSO2 has been delivering industry-first API management solutions to address development teams' evolving needs. WSO2 APK builds on this commitment by providing a comprehensive API management platform designed specifically to utilize and integrate with the Kubernetes capabilities developers rely on for their modern, cloud native applications," said Chris Davey, vice president and general manager of the API & integration software business unit at WSO2. "We believe that WSO2 APK will drive innovation, enable faster development, and unlock new possibilities for organizations looking to harness the full potential of their APIs within Kubernetes deployments."
The Data Plane of WSO2 APK, featuring the API Gateway, is generally available today. The next release, scheduled for Q1 2024, will deliver a seamless user interface (UI) experience for API design and publishing, as well as enhanced administration and governance, according to the company.