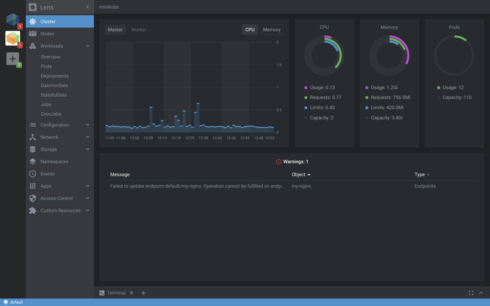 The open cloud company behind the popular Lens Kubernetes IDE project, Mirantis, announced a new Extensions API that enables the rapid development of extensions for seamless integration with any Kubernetes-integrated component, toolkit, or service.
"The Extension API and Extensions made in collaboration with many popular CNCF projects, opens up the world to Kubernetes developers greatly simplifying creating, shipping, and running cloud-native applications," Mirantis wrote in a post.
With Lens Extensions, users can add custom visualizations and functionality to support their preferred cloud-native technologies and to accelerate their development workflows. 
Also, the extensions API will provide an array of options for extension authors to plug directly into the Lens IDE. Extensions can also be used in conjunction with services deployed from the Helm chart repository for a fully integrated experience.
Lens installs anywhere and eliminates the need to wrangle credentials, provides an intuitive and  clean user interface that hides kubectl complexity and coordinates access to code editors, version version control, the Docker CLI, and other desktop and remote tools.
It also offers unified and secure multi-cluster management on any platform, insights and the ability to go from observation to actionable in the fastest way possible, according to Mirantis.
"Extensions API will unlock collaboration with technology vendors and transform Lens into a fully featured cloud native development IDE that we can extend and enhance without limits," said Miska Kaipiainen, the co-founder of Lens OSS project and the senior director of engineering at Mirantis. "If you are a vendor, Lens will provide the best channel to reach tens of thousands of active Kubernetes developers and gain distribution to your technology in a way that did not exist before. At the same time, the users of Lens enjoy quality features, technologies and integrations easier than ever."