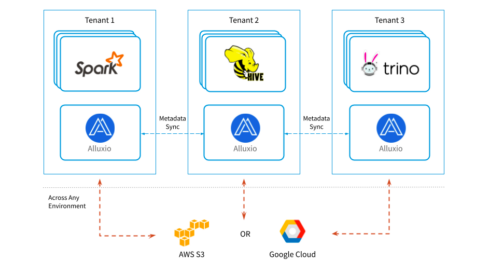 Alluxio announced Data Orchestration Platform 2.9 which adds support for a scale-out, multi-tenant architecture with a new cross-environment synchronization feature and enhanced tooling and guidelines for deploying Alluxio on Kubernetes.
The company aims for the platform to be a key layer between compute engines and storage systems with the enhancements. 
The new cross-environment synchronization feature enables teams to deploy multiple per-tenant Alluxio clusters between compute and storage clusters across any environment, based on workload capacity to improve scalability.
Additionally, running Alluxio on Kubernetes helps to standardize deployment methodologies across cloud, multi-cloud, hybrid-cloud, and on-premises environments. It also makes data stacks portable to any environment to prevent vendor lock-in.
The new Alluxio operator for Kubernetes enables administrators to deploy and manage Alluxio on Kubernetes with custom resource definitions. 
The new version of the data platform also adds improved security and performance with a strengthened S3 API and POSIX API.