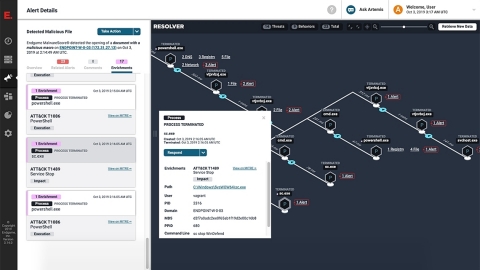 Elastic has released a new SIEM and endpoint security solution: Elastic Endpoint Security. The new solution is based on the company's recent acquisition of Endgame, an endpoint threat prevention, detection and response provider. 
The solution will feature raw endpoint security data, event data, and alerts, in addition to the Elastic Stack's existing logging, security, APM and infrastructure event collection. 
"Users deserve more from the tools they deploy. That's why we are providing immediate value today through the simplicity of a single stack to search, store, analyze, and secure your data," said Shay Banon, founder and chief executive officer of Elastic. "This is an exciting step toward realizing our vision for applying search to multiple use cases, as we are now able to offer users the best threat hunting solution with the best endpoint protection."
Symantec also releases endpoint security solution
Symantec is joining Elastic in endpoint security with the release of its Symantec Endpoint Security solution. It will feature protection, detection and response capabilities as well as new attack surface reduction, threat hunting and breach assessment and prevention capabilities.
"Symantec Endpoint Security is the future of security — easy to deploy, simple, automated, across every device. Symantec Endpoint Security is uniquely equipped to actively reduce the attack surface, eliminating the threat of serious attacks like targeted ransomware. And SES gives customers complete visibility into attacker activity on the device, leveraging cloud analytics that can spot the most hidden targeted activity," said Adam Bromwich, SVP and GM of endpoint solutions at Symantec. "With complete protection, EDR, attack surface reduction, and threat hunting tools, Symantec Endpoint Security should now be an industry standard for today's security teams."
ManageEngine releases privileged access security solution
IT management company ManageEngine announced the release of PAM360, a privileged access security solution for IT. It features privileged access governance, just-in-time controls, privileged user behavior analytics, privileged session monitoring and SSL/TLS certificate management. 
According to the company, compromised credentials play a role in almost 80 percent of data breaches, so a 360-degree approach is necessary for creating visibility and remaining compliant. 
"While enterprises are increasingly aware of the importance of privileged access security, they often do not know how to build and run a complete PAM program. Any gaps in processes or tools could derail the whole program, making it dysfunctional," said Rajesh Ganesan, vice president at ManageEngine. "With PAM360, we are bringing a holistic approach to not only PAM, but how it contextually fits into overall operations to help our customers successfully implement privileged access security across their entire infrastructure."
Radware announces new Kubernetes-based security solution
The new Radware Kubernetes Web Application Firewall is designed for Kubernetes orchestrated microservices running on-premise and cloud-based implementations. According to the company, it protects against major threats such as data theft, encoded and encrypted attacks, and API manipulations. 
"Agility is the main reason for businesses and organizations to turn towards microservices and orchestration tools like Kubernetes, but application security has often been neglected as it has limited DevOps' ability to reduce time to market," says David Aviv, Chief Technology Officer at Radware. "With Radware Kubernetes WAF, we are now enabling DevOps to seamlessly integrate application security into their environments without slowing down any of their development or implementation processes."