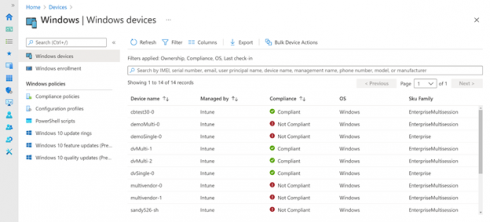 Microsoft has announced it is rebranding Windows Virtual Desktop to Azure Virtual Desktop and adding a number of new features in public preview. It is making the change in order to support evolving needs of hybrid and remote work.
"To help our customers and partners meet these new hybrid work demands, we are expanding our vision to become a flexible cloud VDI platform for nearly any use case—accessible from virtually anywhere. A modern VDI platform needs to be secure, scalable, and easy to manage, while delivering a seamless, high-performance experience to end users. It should also empower organizations with the flexibility to customize and build solutions with its core technology," Kam VedBrat, partner group program manager at Microsoft, wrote in a post. 
Microsoft will be adding improved support for Azure Active Directory, which will now include the ability to join Azure Virtual Desktop machines directly to Azure Active Directory, and the ability to automatically enroll virtual machines with Microsoft Endpoint Manager. 
"For certain scenarios, this will help eliminate the need for a domain controller, help reduce cost, and streamline your deployment. While this is a major milestone, it's just the beginning of the journey towards full integration with Azure Active Directory. We will continue adding new capabilities such as support for single sign-on, additional credential types like FIDO2, and Azure Files for cloud users," VedBrat wrote. 
Another preview feature is the ability to manage Windows 10 Enterprise multi-session virtual machines with Microsoft Endpoint Manager the same way physical machines are managed.
It also added a preview for the new QuickStart experience, which helps speed up onboarding by validating requirements, automating deployment, and implementing best practices. 
Microsoft also announced changes to its pricing options. Azure Virtual Desktop is covered by many companies' existing license agreements, but for organizations who want to deliver applications "as-a-service" to their customers and business partners, it will introduce a monthly per-user access pricing option. 
This new pricing model will go into effect on January 1, 2022. Currently, Microsoft is allowing organizations to access Azure Virtual Desktop free of charge to stream applications to external users. The underlying Azure infrastructure usage will still need to be paid for, however, Microsoft added.