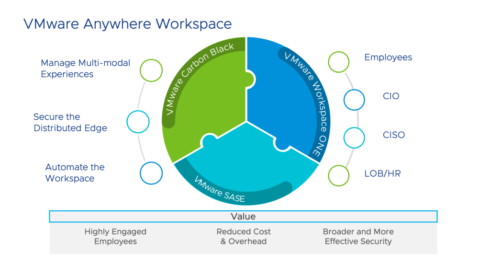 VMware wants distributed organizations to be able to embrace work from anywhere with the release of its Anywhere Workspace. The new solution aims to manage multi-modal employee experience while providing better security at the edge and reducing costs and operational overhead. 
"Organizations are facing many challenges, such as ensuring good connectivity for remote employees, monitoring and securing their enlarged attack surface, supporting BYOD, managing remote PCs, and providing a seamless experience. When not addressed properly, these issues all have a negative effect on productivity and security," Shaun Bass, vice president at CTO of VMware end-user computing, wrote in a blog post. 
The VMware Anywhere Workspace combines VMware Workspace ONE, VMware SASE and VMware Carbon Black Cloud. Vmware Workspace ONE provides endpoint management, desktop and app virtualization and employee experiences. VMware Carbon BLack Cloud provides cloud-antive endpoint and workload protection. VMware SASE combines SD-WAN capabilities with cloud-delivered security functions, according to Bass. "With this combined solution, customers can manage employee experience across devices and locations," he wrote. 
In addition, the solution will provide unique integration points between solutions. For instance, Carbon Black Cloud and Workspace ONE will integrate to bring physical and virtual endpoint management and security capabilities together. WorkspaceONE will also integrate with SASE services for zero trust network access. 
"Work is what you do, not where you do it. As businesses reimagine where and how teams collaborate and innovate, they must do more than transform. They must reform their mindset to create a digital-first culture that puts employee experience first," added Sanjay Poonen, chief operating officer of customer operations at VMware. "We developed VMware Anywhere Workspace with this new way of working in mind. It will play an important role in creating stronger, more focused, and more resilient businesses."