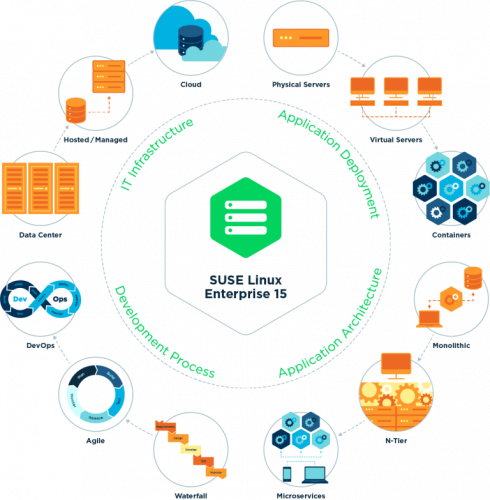 SUSE today announced the release of its latest operating system SUSE Linux Enterprise 15. The company says version 15 is designed to help companies going through a digital transformation, and focuses on bridging multimodal IT infrastructures.
"As organizations around the world transform their enterprise systems to embrace modern and agile technologies, multiple infrastructures for different workloads and applications are needed," SUSE CTO Thomas Di Giacomo said in the announcement. "This often means integrating cloud-based platforms into enterprise systems, merging containerized development with traditional development, or combining legacy applications with microservices. To bridge traditional and software-defined infrastructure, SUSE has built a multimodal operating system – SUSE Linux Enterprise 15."
SUSE Linux Enterprise 15 features a "Modular+" architecture that is designed to work within existing and traditional IT infrastructure, and uses a common code base to make applications more portable.
In preparation for the release of SUSE Linux Enterprise 15 in July, the company has also updated its SUSE Manager to version 3.2, which is now available, with images for Amazon Web Services, Google Cloud Platform and Microsoft Azure instances coming soon. SUSE Manager 3.2 focuses on reducing costs, improving DevOps, and managing complex deployments across IoT, cloud and containers.
"Built for Linux, the latest release of SUSE Manager delivers new features focused on lowering costs, improving DevOps efficiency, and easily managing large, complex deployments across IoT, cloud and container infrastructures," the company wrote in its announcement. "It helps customers improve DevOps efficiency and meet compliance requirements with a single tool that manages and maintains everything from edge devices to Kubernetes environments. SUSE Manager makes managing large, complex deployments easier with new extended forms-based UI capabilities."