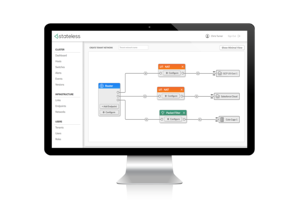 Networking company Stateless has announced that it has been awarded a patent (No 10,425,348) for its stateless network functionality. This technology allows for new levels of automation that simplify how businesses can access remote IT services. It also helps them more effectively use computing resources.
The patented technology was created by the company's co-founders, Eric Keller and Murad Kablan while they were at the University of Colorado Boulder. 
"The pace of business is accelerating. We are seeing exponential increases in demands for network-based applications and elastic interconnectivity," said Kablan. "Eric and I recognized the limitations of existing connectivity technologies and developed a new, unique approach that provides the levels of simplicity, flexibility and control that today's cloud-forward businesses require."
 The technology is currently being used in the Stateless Luxon software-defined interconnect (SD-IX) platform. The platform supports a range of use cases for data center operators, cloud MSPs, communications carriers, and businesses, the company explained. "Any organization seeking fast, easy connections, support for thousands of interconnections and the ability to deploy a diverse array of new network services quickly can benefit from Luxon," said Kablan.