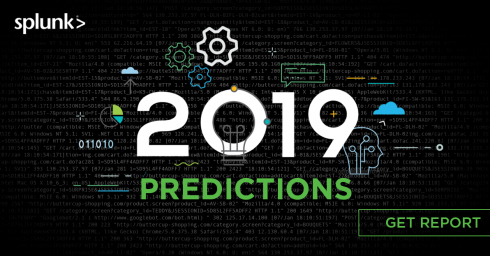 Splunk believes the IT operations space is going to transform and evolve into new areas as we continue into 2019. The company has released a 2019 ebook on its predictions based off of customer insight and company resource.
"We're always at the cusp of the next big thing, moments away from the next technological change that will affect us whether at work or at home — sometimes it just hasn't reached us yet," the company wrote in the ebook. "At Splunk, we're working on shaping the future. Our experts are embracing new developments, focusing on the future of artificial intelligence (AI) and machine learning (ML), IT operations, security and IoT."
The ebook looks at artificial intelligence, machine learning, security, IT operations and the Internet of Things will play out in 2019.
For IT Operations, the company predicts multi-cloud will continue to dominate the space as well as the enterprise. "Multi-cloud deployments will become a must, especially among large organizations. But managing and measuring performance across a multi-cloud infrastructure presents challenges, which will drive more AI and ML adoption," the company stated. Splunk predicts organizations will need more flexibility from its services as its operation footprints grow larger.
In addition, Splunk predicts IT will move into the mobility space as container use in production increases. "Containerized workloads allow developers to work in different environments without too much upfront building and cost (apart from some GPU dependencies and the like). Additionally, containers lend themselves to continuous integration/ continuous deployment (CI/CD), making it easier to build code into shared repositories that can be leveraged for fast application deployments across environments," the company rope.
As a result, IT teams and roles will also need to evolve, according to Splunk. The company expects IT departments to move from building and managing infrastructure and apps to dealing with external apps and services.
For AI and machine learning, the company expects the technology will touch all different parts of the IT space. Some predictions Splunk has is that AI adoption will move from something companies are thinking about doing, to something companies are beginning to roll out; open-source systems and communities will be key in AI and ML development; AI will come up with new ways humans and machines interact with  data; and AI and ML will start to take off in the healthcare and finance spaces.
Splunk also foresees ML dominating the IoT space as the need to provide a competitive edge continues to grow. The company also believes IoT security is going to become a real issue this year. "While OT and IT convergence is enabling new business models, it introduces significant new risks, for which many organizations are unprepared," the company wrote. "Notably, the uniqueness of OT will require organizations to focus on standards most critical to protecting their assets and SCADA/ICS systems while investing in IoT-specific security expertise in-house."
Other predictions included a disconnection and risk with interconnection, the rise of the virtual analyst, and a greater focuses on compliance and enforcement when it comes to security. "The one constant in security is that there will always be someone or something ready to exploit the first signs of vulnerability. Organizations try to shore up our defenses in an attempt to stop these attacks—creating more integrations, following more regulations and standards, and constantly pivoting to protect a broader attack surface. But somehow, the news of the latest record breach seems to be just around the corner," the company wrote.