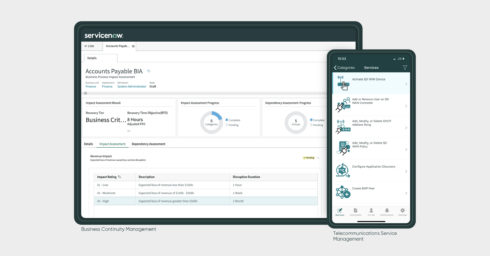 ServiceNow has announced the latest release of its Now Platform, designed to help organizations remain agile and resilient as they grow and enhance their productivity during the ongoing COVID-19 pandemic. The ServiceNow Paris release includes new business continuity management, hardware asset management, and legal service delivery. 
"The world is experiencing a seismic shift from the obsolete 'business process evolution' to the new 'workflow revolution.'  Companies across industries are facing once-in-a-generation challenges. They are trying to keep their businesses on track and get their people back to work.  ServiceNow is committed to helping businesses capitalize on the opportunities of digital transformation to boost agility and resilience in this next normal work environment," CJ Desai, chief product officer at ServiceNow, wrote in a blog post. 
RELATED CONTENT: Business continuity planning during COVID-19
The new business continuity management solution includes automated business impact analysis, business continuity plan development, and crisis management. 
The hardware asset management solution automatically tracks financial, contractual and inventory details of hardware and devices so organizations can make smarter purchasing or disposal decisions. 
The legal service delivery solution provides the visibility legal teams need to make decisions fast and enhance productivity. 
ServiceNow also made a number of products generally available for telecommunications providers and financial services organizations. The new financial services operations solution is designed to help banks connect teams and systems to customers. The telecommunications service management solution provides insights into customer status and health. Lastly, the telecommunications network performance management solution provides a view of the install base and the ability to analyze, correlate and resolve events and alarms across multiple network monitoring platforms. 
"With the Now Platform Paris release, we are offering powerful new capabilities that can help enterprises fuel growth and strengthen business resilience, while enhancing employee productivity and customer loyalty. These are all critical to surviving in the COVID economy," Desai wrote. 
ServiceNow introduces Graph Connector Program
In addition, ServiceNow introduced the Service Graph Connector Program within its Technology Partner Program to ensure third-party tools are integrated with Service Now. Inaugural technology partner integrations include Armis, HCL BigFix, CrowdStrike, Datadog, Dynatrace, ExtraHop, Forescout, Jamf, LogicMonitor, Cisco Meraki, Microsoft Intune, Microsoft SCCM, Qualys,  SolarWinds, and Tanium. 
"As hybrid IT models grow across enterprises, we've seen our customers lean more on platform integrations that will give IT professionals a single-pane-of-glass view into their technology infrastructure," said Ross Fujii, vice president of research and development partnerships at SolarWinds. "We are thrilled to partner with ServiceNow to give our Orion users another way to deepen their IT asset tracking and monitoring capabilities, while enhancing their greater service management strategy."
As part of the program, ServiceNow and Microsoft announced four new integrations: ServiceNow onboarding integration with Microsoft Azure Active Directory; Microsoft Azure support for ServiceNow Cloud Insights; ServiceNow software asset management integration with Microsoft Azure Active Directory; and Virtual Agent Lite plugin for MIcrosoft teams.