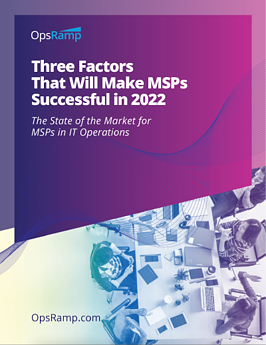 In order to take advantage of new opportunities in the market, managed service providers (MSPs) are going to need to embrace new complex technologies.
This is according to OpsRamp's 2022 State of the Market for MSPs in IT Operations, which includes responses from 211 MSP decision makers. 
According to the report, there is more opportunity than ever before for MSPs. According to research from Information Services Group, the market for IT and business services grew at its fastest rate ever in 2021. In addition, Gartner predicts a growth rate of 8% for IT services compared to 5% for the IT industry in general. 
The complex technologies identified in the survey include root cause analysis, hybrid cloud management, and automation.
The report found that a top monitoring challenge for MSPs, at 46% of respondents, was faster root cause analysis. Forty-eight percent of respondents also considered it to be the top AIOps capability that is crucial to winning jobs. 
MSPs believe that managed cloud and managed network services will be the technologies gaining the most traction in 2022. At 20% of responses each, these outpace managed security services, which was only identified by 16% of respondents. Fifty-five percent of respondents believe that IT infrastructure monitoring will be the most critical technology for managing delivery of these services, while 47% of respondents believe network performance monitoring will be most critical. 
Finally, automation was also cited as the most important monitoring capability to winning job bifs. MSPs are in need of tools that can handle hybrid monitoring as well as automate configuration changes and IT processes. 
"The study shows that MSPs are dealing with some of the most complex challenges in IT management today," said Varma Kunaparaju, CEO of OpsRamp. "As digital transformation accelerates and the hybrid estate grows, MSPs need to be able to consolidate their monitoring tools, apply machine learning to their monitoring data to get to the root cause of performance issues faster, and automate their responses to those performance issues in order to lower mean time to remediation and improve the service levels they deliver to their clients."