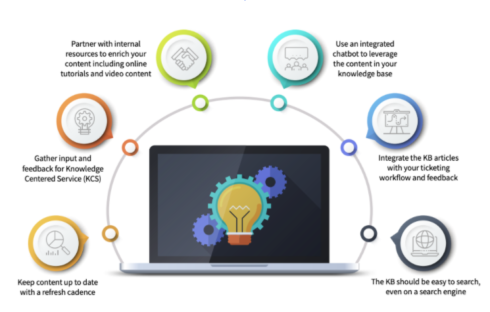 A little more than half of IT teams need improved technology to support a remote workforce and learning environments, according to the new 2020 Pulse report.
The areas that need more improvement include better end-user portals for managing inquiries, improved tools for managing remote teams, and increased insight to manage work and resource allocations.
When examining across all sectors, 45% of the participants self-ranked as 'highly' prepared to support a remote workforce and distant learning in terms of Knowledge Base Readiness, while 28% said they were moderately prepared and 27% said they were entirely unprepared.
To pair ITSM and knowledge-centered service, teams must be able to easily and quickly use the knowledge base and look to start in an area where KCS style guide will make the most impact, according to TeamDynamix, which conducted the study.
It is also important to start with a small team and slowly to prevent pushing all existing documentation into the KB try to retrofit it into your new knowledge base.
"Invest in training and certifying your core KCS style guide management team on KCS v.6. Your champions need to feel empowered and confident that they fully understand the process and can guide the rest of the organization," TeamDynamix wrote in the report. "Stay motivated by reaching out to peer institutions and sharing wins as well as losses. Get involved with your knowledge creators and discover what drives them to contribute."
The report also stated that as demand continues to increase, there will be an increased focus on automation and workflow beyond the more traditional capabilities.
IT should look to provide ticketing automation to simultaneously create multiple tickets in multiple applications to manage complex processes, route and assign tickets based on advanced business logic, and monitor the ticketing platform and receive alerts for new assets or changes to tickets/assets and make updates.
Many organizations also stated that they have trouble effectively managing teamwork. Areas of particular concern were keeping project status current, and the ability to communicate and collaborate more effectively as only 33% of the participants stated they could effectively conduct resource capacity planning across both tickets and projects.
In that case, tracking and managing the resource one has while working on their project becomes critical to its success.