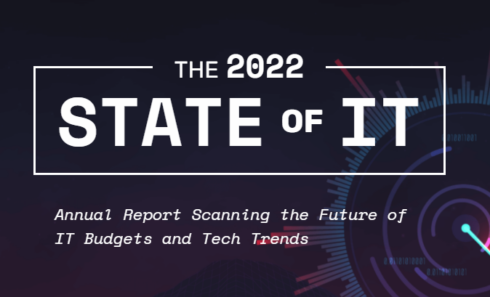 Despite the pandemic, 61% of companies expect their revenues to increase significantly in 2022, prompting increased tech spending budgets for those companies. 
This is according to the 2022 State of IT report by Spiceworks Ziff Davis, a global marketplace that connects technology buyers and sellers with actionable and precise intent data. The company conducted a survey in July 2021 and included 1,145 IT buyers from organizations across North America and Europe.
The report also projects that the share of IT budgets allocated to the cloud and managed services will grow year over year, which will take shares away from hardware and software as some workloads shift away from on-premises data centers. 
The drivers of an increased IT budget include an increased priority on IT projects, a need to upgrade outdated IT infrastructure, increased security concerns, and supporting a remote workforce during COVID-19.
Most mid-size businesses at 52% and enterprises at 56% cite an increased priority on IT projects contributing to tech spending growth, compared to only 32% of small businesses. Enterprises are significantly more likely than small or mid-size businesses to increase budgets due to corporate tax cuts and currency fluctuations, according to the report.
Despite IT spending growing as a priority, there are some tech buying challenges that are expected to continue into 2022.
More than 40% of businesses now expect shortages, price increases, shipping delays, and logistical issues.
A worker shortage is also potentially on the horizon as roughly one-quarter of IT professionals plan to look for or change jobs in 2022. Among these IT job seekers, 86% will consider remote roles, according to the report. 
"Overall, with an anticipated rebound in spending that will likely surpass pre-pandemic levels, there's reason for excitement in an environment that will see more money flowing into the tech industry," the report concluded.