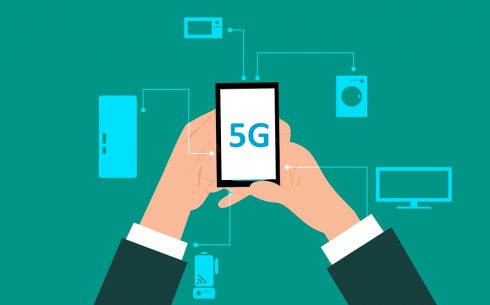 Nokia is best known as one of the world's largest suppliers of transmission infrastructure to broadband telecommunications and cellular carriers, but the company believes there's growing demand among enterprises for its LTE wireless, and high-speed optical networking gear.
Seeking to tap that demand, the company is launching a new enterprise business unit on Jan. 1, which will focus on enabling businesses, governments and universities to integrate Nokia's broadband and cellular transmission infrastructure with enterprise IT and cloud platforms for IoT and other digital transformation implementations.
CEO Rajeev Suri tapped chief strategy officer Kathrin Buvac to lead the new Nokia Enterprise Business Group. The new unit aims to expand Nokia's networking and software portfolio and services to focus on enterprises building out industrial IoT and cloud-based distributed edge capabilities.
As new wireless network technologies such as 5G services start to go into production, Nokia believes its gear and software-defined networking capabilities will have even greater appeal to enterprises over time. But even wireless existing telco-grade capabilities have a role in many new distributed edge implementations.
"When it comes to networking infrastructure, Nokia is a leader, whether it's wireless, fixed or IP or optical," said Houman Modarres, Nokia's senior director of IP product marketing. "Among the biggest networks you can imagine in every one of those dimensions, certainly you'll find Nokia that works there. And enterprises increasingly also are using combinations of our technologies."
Beyond Telecom: The Industrial Enterprise
The formation of the group is tied with Nokia's new Future X for Industries, a framework announced last month that seeks to deliver process and productivity improvements to several vertical sectors. Future X for Industries is the outgrowth of Nokia's broader Future X vision outlined in 2015 to evolve its service provider business.
Future X was developed at Bell Labs, the famous research laboratory that became part of Nokia following its 2016 acquisition of Alcatel-Lucent. It aims to help enterprises in industries such as manufacturing, logistics, transportation, energy and public sector address their digital transformation and automation initiatives with Industrial IoT, artificial intelligence and augmented reality.
The new enterprise organization plans to go deeper into addressing requirements that may not typically affect mobile carriers but require the blending of IT, operational systems and emerging edge networks.  Many IoT projects that enterprise customers are considering, or planning, may have a need for a mixture of edge IT solutions using enterprise infrastructure such as Wi-Fi and public cloud services.
But given the distributed nature of these projects, Nokia has found that telecom infrastructure including LTE transmission equipment and optical network gear designed for public broadband and metropolitan area networks also increasingly has a complementary place in these implementations.
"What they are doing, especially backed by the technical chops of Bell Labs, addresses real network challenges faced by industrial firms deploying IoT," said 451 Research analyst Rich Karpinski. "While some telecom vendors are working to deploy IoT vertical applications – and Nokia has its app lineup as well – putting its largest emphasis on improving industrial networking can help manufacturers and related firms expand their mission-critical options, in particular wireless options, in networking together their operational machines and processes."
Nokia's effort is ambitious, and it won't come without challenges, Karpinski added. "It won't be an easy win – industrial networking already is driven by large doses of time-sensitive industrial Ethernet and similar fixed wireless technologies," he said. "But 5G, scalable, low-power and delivering application functionality by the slice, is well-positioned to compete for this opportunity."
While Nokia's enterprise push into enterprises is more aggressive than other telecom infrastructure providers, the company is also taking on some entrenched players in traditional IT, many of which offer some network gear to telcos including Cisco, Juniper Networks, Hewlett Packard Enterprise and Dell Technologies.
Accelerating the Edge with SD-WAN 2.0 and VSP
Nokia might have better credibility when it comes to providing telco and cellular transmission gear, but it has already straddled into the IT world, embracing technologies such as software-defied WAN (SD-WAN), developed by Nuage Networks, a subsidiary the company gained with its Alcatel-Lucent acquisition.
The company's new SD-WAN 2.0, launched in September, brings network connectivity and acceleration to the edge. It also provides a services architecture that enables orchestration of IT services among datacenters, public cloud providers and SaaS providers, as well as branch locations.
The Nuage Virtualized Services Platform (VSP), which provides SDN and policy-based automation for cloud-based workloads, supports Kubernetes and Mesos orchestration with support for the Container Network Interface (CNI) and Docker's Container Network Model (CNM) plug-ins.
VSP also supports the Kubernetes Network Policy API and OpenShift high-availability, multi-tenant deployments. These are key capabilities many early adopters have started piloting and implementing to create modern and more agile digital business operations based on cloud-native applications.
"We're giving enterprises freedom of choice to consume networking how they see fit, where they see fit, and in a way that they're not bounded by kind of their traditional building or campus networking approach," Nokia's Modarres said.
Creating an Enterprise Ecosystem
By creating the separate enterprise business group, Nokia can broaden its capabilities by adding dedicated marketing and technology professionals, alliances and other partnerships, according to Modarres. For example, Nokia has partnered with IT consulting firm Infosys where the two will collaborate on developing digital asset management solutions that offer AI and machine to machine communications for companies in the energy, manufacturing and transportation industries.
Modarres said Nokia is also partnering with competitors in so-called coopetition-type arrangements, including Dell Technologies and HPE.
Smart Cities Project with Dell Technologies
One such recently announced project that will be closely watched is a digital cities initiative in Holland involving the creation of semi-autonomous barges, powered by hydrogen, to provide last-mile transportation in the city of Delft.
The barges aim to spur economic development by reducing traffic, while reducing carbon emissions to help those in the city get around more efficiently. The plan will implement the Nokia Impact IoT platform with the Dell EMC Digital Accelerator.
Nokia's Impact is a modular platform addressing connectivity, device management, application development, event processing and data collection. It also applies context to information gathered.  Impact supports certified devices and various IP protocols and IP-based low-power WAN protocols such as NBIOT and LoRa, includes Nokia's NetGuard Endpoint Security offering that uses analytics and threat intelligence to prevent device-level intrusions.
The Dell EMC Digital Accelerator has an API gateway and is designed for data ingestion, using the company's hybrid cloud infrastructure, including its compute and storage hardware and VMware virtualization, management and orchestration tools.
Kenny Pool, chairman of Dell Technologies' Big Data Innovation Hub, is a technical architect on the project, now in the early stages of development. Overseeing it is the Delft University of Technology. "This vessel will navigate upon the directives of device communicators from Nokia with their 5G technology," Pool said. While the initial focus of the project is improving transportation, there are other uses cases planed such as waste management, he added.
Planning for 5G
As 5G networks start to go more broadly into production in 2019 and 2020, Nokia and other telecom providers will play a bigger role in the deployment and management of IoT implementations. But there are many projects that can be deployed with today's current LTE cellular network infrastructure, Nokia's Modarres said.
The key benefit of 5G is that it provides higher bandwidth and offers very low latency. "When you look at manufacturing from the context of needing to tele-operate machinery, you need to be able to have the responsiveness at a very exact level, so many of the early applications work fine with LTE but 5G will certainly enhance those use cases."