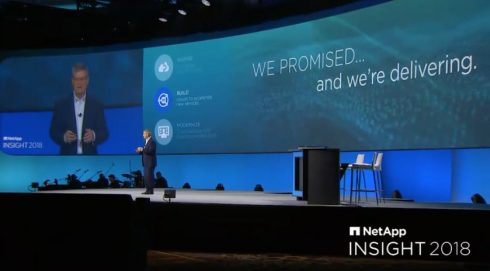 NetApp is turning its focus on solving AI and DevOps issues for businesses. The company announced updates to its Trident storage provisioner as well as the release of new data services and solutions at NetApp Insight in Las Vegas this week.
With its new DevOps solutions, the company hopes to better align developers and IT teams so developers can just focus on creating apps. Trident, the automated  provisioner for Docker, Kubernetes and OpenShift, has been updated to support NetApp Cloud Volumes ONTAP, provide multi-cloud support, and support backup and restore in NetApp Snapshot. In addition, it provides the ability to incorporate logging, data protection, databases, traditional apps and cloud-native apps into container strategies, the company explained.
"Delivering business value from data often depends on developers' ability to rapidly innovate through methods like DevOps, but organizations often lack the infrastructure to support the flexible, collaborative approach required for a true DevOps culture," said Brad Anderson, SVP and GM of cloud infrastructure at NetApp.
NetApp also announced Red Hat OpenShift on NetApp HCI Verified Architecture to enable DevOps teams to manage containers in a private cloud environment. According to the company, this will enable users to build, deploy and manage apps more quickly, provide self-service, and automate operations.
Other DevOps announcements included the no-ops service NetApp Cloud Volumes for Google Cloud and AWS.
Focusing on AI, the company announced it was extending the NetAPp Data Fabric across edge, core and cloud environments with the release of:
ONTAP 9.5: A data management software solution for unifying and simplifying data infrastructure
MAX Data: A solution designed to leverage persistent memory in servers for faster data processing and recovery of AI apps and real-time data analytics
StorageGRID SG6060: A flash-accelerated object storage solution for addressing the news of IoT, big data analytics and machine learning environments
NetApp Solution Support for FlexPod: A support solution for storage, storage network, compute, compute OS, LAN networking, and hypervisor
According to Gartner, business value generated from AI is projected to grow to $1.2 trillion in 2018, an overall 70 percent increase from 2017. Additionally, IDC predicts about 75 percent of commercial enterprise apps will include AI by 2021. NetApp hopes the expansion of Data Fabric will help businesses remove data silos and accelerate the ability to train deep learning models.