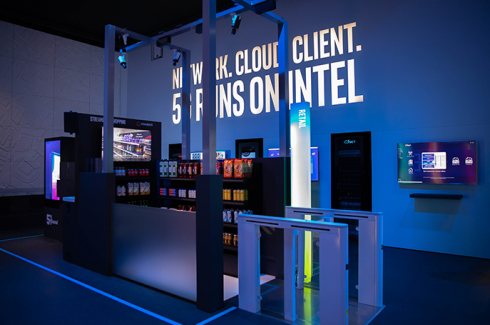 The Mobile World Congress (MWC) is happening is Barcelona this week, with several device manufacturers attending to show off their latest gadgets. In addition to new device announcements, several companies are also demoing and introducing new solutions for 5G, IoT, and networking.
Among them is Intel, which announced several new solutions. It revealed that Ericsson is adopting the Snow Ridge wireless base station, which was first announced at CES, to evolve its 5G base station line and RAN Compute network.
It also announced the Open Network Edge Service Software (OpenNESS) toolkit, an open-source reference software for creating and deploying edge applications and services. Intel hopes that the toolkit will foster open collaboration and innovation at the network and enterprise edge.
In addition, Intel collaborating with Skyworks in order to co-optimize the 5G radio frequency solution for the Intel XMM 8160 5G modem. According to Intel, this modem will be scalable and is targeted to all tiers and market verticals. The modem is expected to be available in Q4 for testers, and will be generally available in Q1 of 2020.
Other announcements include:
Sprint partners with AWS to improve its Curiosity IoT platform
Sprint announced that it is collaborating with AWS to improve its Curiosity IoT platform. This partnership will enable Sprint to integrate AWS storage and IoT services with Sprint's distributed IoT core network. The integration will provide customers with optimized traffic routing, processing, and storage of IoT data, Sprint explained.
Curiosity IoT customers will now gain access to Amazon S3, AWS IoT analytics, and AWS IoT Things Graph.
D-Link reveals new networking solution for SMBs and smart city improvements
Networking equipment provider D-Link announced a new network management solution and a new partnership with Microsoft. The new solution, Nuclias Connect is targeted towards small-to-medium-sized businesses (SMBs), and offers remote configuration, automated management, and on-the-go monitoring for new and legacy devices, such as access points, managed switches, and smart switches.
Nuclias Connected can be downloaded for free as a desktop app, and there is an accompanying mobile app for iOS and Android as well.
"With Nuclias, we are making your network easier to scale, easier to manage, and easier to troubleshoot, while enabling more value-added services. It is an enterprise-grade solution, streamlined for SMBs, offering automation, optimization, and customization — as a solution and as a service," said Steve Lin, president of D-Link Corporation.
The company also announced that it is partnering with Microsoft on smart city solutions. D-Link will use Microsoft's Azure Machine Learning platform, Azure media services, and Azure IoT Edge to build its solutions. D-Link has also used Microsoft's Vision AI developer kit to build features, such as facial and object recognition, into surveillance cameras, enabling cities to improve safety, traffic management, pollution control, smart retail, and smart parking.
CNCF provides a CNF Testbed in partnership with LF Networking
The Cloud Native Computing Foundation is partnering with LF Networking to provide Cloud native Network Function (CNF) Testbed. According to the company, Testbed will allow organizations to test network functions from ONAP or their own Virtual Network Functions (VNF) or CNF code, then compare the performance and resiliency between running on Kubernetes and OpenStacks.
"CNFs are emerging as the network architecture of the future, for many of the same reasons that containers and Kubernetes are becoming the standard platform for enterprise computing," said Dan Kohn, executive director of Cloud Native Computing Foundation. "We're excited to continue collaborating with LF Networking to provide telcos and their vendors a way to make replicable comparisons between VNFs and CNFs."
Packet to open two new edge sites in Chicago
Bare metal automation platform provider Packet has announced two edge sites in Chicago as a result of a partnership with Vapor IO. In addition to a site near Gillette Stadium in Massachusetts, these two sites are the first of 15 edge locations that will be launched this year.
The company also announced an Edge Access Program, which will provide users with free access to edge computing building blocks. According to Packet, this program will function on a rolling basis and will feature stock base metal configurations that are targeted at cloud native and telco deployments, with customized configurations available on a case-by-case basis.
Cloudify Spire launched to address edge networking challenges
Cloudify has announced Cloudify Spire, which is an orchestration platform for connecting and controlling distributed networks, devices, and applications to the edge. Cloudify Spire aims to solve some of the challenges associated with edge networking.
The solution includes multi-domain orchestration capabilities and offers an intuitive UI that has a single point of access to the entire cluster in highly distributed networks, edge sites, and geographic locations.
"When the need to enable edge computing arose, we realized that no existing orchestrator could manage distributed networks or meet the scale of potentially billions of managed devices. Cloudify Spire was developed to address these challenges," said Ariel Dan, CEO of Cloudify. "Service providers and enterprises need a single platform that automates new technologies (e.g. SD-WAN) together with the existing stack (e.g. vCPE), while preventing vendor lock-in."