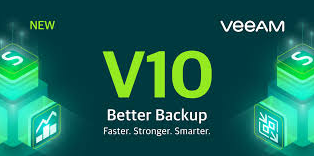 The latest version of Veeam's backup and recovery solution is now available. NEW Veeam Availability Suite v10 features data protection for Networked Attached Storage (NAS), Multi-VM Instant Recovery for automating disaster recovery, and enhanced ransomware protection. 
"v10 is the biggest release in the history of Veeam, and the enhancements we've made take data protection to the next level, creating the simplest, most flexible, and most reliable solution for hybrid-cloud environments….NEW Veeam Availability Suite v10 stays true to these ideals, helping businesses of all sizes ensure that their data is always available, portable, and protected across any cloud or platform, so they can intelligently use that data to accelerate their business success now, as well as plan for future needs," said Danny Allan, chief technology officer and senior vice president of product strategy at Veeam.
OpenSSH 8.2 now available
The latest version of OpenSSH is now available. OpenSSH 8.2 implements SSH protocol 2.0 and offers sftp client and server support. 
The team also announced that they will be disabling the "ssh-rsa" public key signature algorithm in a future release due to the fact that it is possible to perform attacks against it. According to them, better alternatives include the RFC8332 RSA SHA-2 signature algorithms rsa-sha2-256/512, the ssh-ed25519 signature algorithm, and the RFC5656 ECDSA algorithms: ecdsa-sha2-nistp256/384/521. 
Snowflake now available on Google Cloud
Cloud data platform Snowflake has announced that it is now generally available on Google Cloud. According to Snowflake, this availability is a "continuation of the company's commitment to providing customers with the flexibility of choosing a preferred- or multi-cloud environment that best supports their business and users."
It is currently launching in us-central1 (Iowa) and europe-west4 (Netherlands), with more regions to be added later this year. 
In addition, Snowflake will be launching a number of integrations with Google Cloud later this year, including Snowflake Connector for Spark, Snowpipe continuous data ingestion, Cloud Data Fusion, Cloud Dataflow, and AI Platform Notebooks.