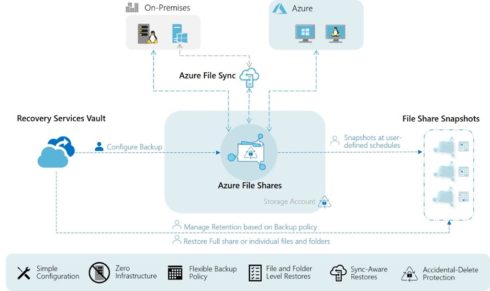 Microsoft is making it easier to manage snapshots in Azure Files. With Azure Backup, users can now backup, protect, and share snapshots in a reliable way. 
Key benefits of this new service include simple configuration, zero infrastructure needs, a flexible backup policy, comprehensive restore capabilities, protection against accidental deletion, on-demand snapshots, and alerts and reports.
Going forward, Microsoft will continue adding features to Azure Backup, such as the ability to copy file share data to the Recovery Services vault.
Infoblox announces integration with Ciena
The new integration will offer simplified network operations. Infoblox will offer its DDI Platform on Ciena's universal customer premise equipment (uCPE). According to Infoblox, this partnership will provide customers with new ways of simplifying management of highly distributed remote networks. 
"Enterprises are moving towards SaaS and cloud-based applications, requiring branch office networks to evolve their DDI infrastructure to provide an optimal end-user experience," said Dilip Pillaipakam, vice president of service provider products at Infoblox. "Service providers are driving uCPE deployment discussions with medium and large enterprise clients focusing on SD-WAN managed services to help these highly distributed organizations evolve their network architecture to address the visibility, reliability, and management challenges of their remote locations."
NetApp acquires CloudJumper
NetApp has acquired the virtual desktop infrastructure (VDI) provider to enable it to solve the challenges of virtual desktop services and application management. It hopes to be able to enable customers to deploy, manage, monitor, and optimize environments from a single solution. 
NetApp is launching a new Virtual Desktop Service (VDS), which will be available immediately on NetApp Cloud Central. It also integrates with Azure NetApp Files and Cloud Volumes.